Understanding your watch water proof rating.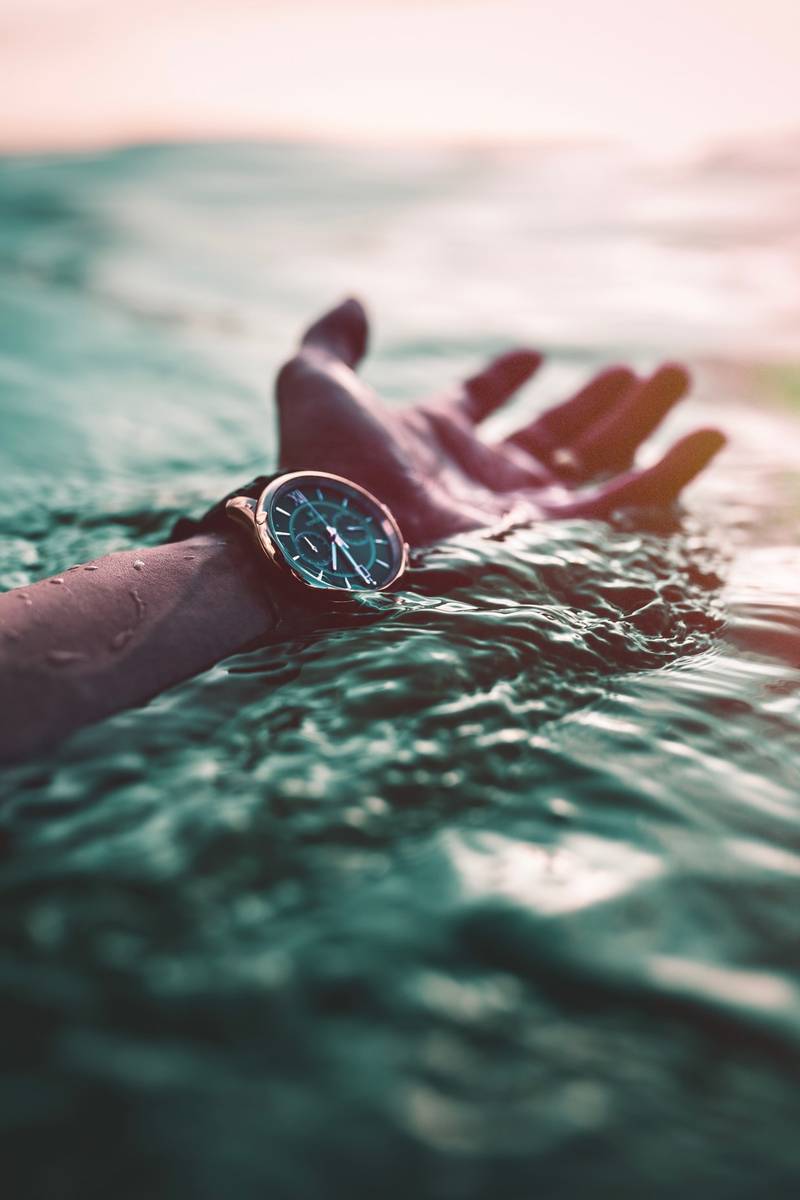 Your about to find out your watch may not be as waterproof as you think. So before you take it for a swim, jet-ski-ing or a dive - check your watch water rating with our easy to use watch water rating chart below.
A watch rated with 50 metres on the dial or case back doesn't mean it can be used diving to a depth of 50 metres. The rating refers to the static pressure it can withstand. The pressure arises when swim underwater, the pressure on the watch can vary and causes seals to fail, and water enters the watch. Most water-resistant watches are not made for prolonged active use in water.
For swimming, there is a specific type of watch. A watch that is rated for swimming has a screw-down crown. For swimming and underwater use look for a watch with a 200-1000M rating.
One of the easiest ways to cause damage to your watch is to open the crown while it is in water or around water. If your watch has screw-down crowns and pushers ensure they are closed before entering or nearing water.
Water-resistance is stated as a depth ( ATM or Meters ) this is the static pressure for a short period only that the watch can with-hold. Certain chemicals in water can damage the watch seals as well as perfumes, aerosol sprays and cosmetics.
Watches should be tested for water resistance every two years and gaskets replaced as necessary to maintain water resistance.
Watch water proof rating chart
| | |
| --- | --- |
| 3 ATM, 30m, 100ft | Suitable for everyday use. Withstands accidental splashes but not suitable for swimming. |
| 5 ATM, 50m, 165ft | Suitable for everyday use and bathing but not suitable for swimming. |
| 10 ATM, 100m, 330ft | Suitable for everyday use and swimming and snorkelling but NOT suitable for high board diving or sub-aqua diving. |
| 20 ATM, 200m, 660ft | Suitable for all high impact water sports and scuba diving at depths not requiring helium gas. At these depths, it is recommended to purchase a professional watch. |
| 20 - 50 ATM, 200 - 500m | Suitable for all high impact water sports, scuba diving and saturation diving. |
| 100 ATM, 1000m | Suitable for deep-sea diving and intergalactic travels. |
The faster, less-expensive way to repair any watch. From your home, office or on the go.
The UK's #1 watch repair website at your fingers.
Open a watch repair request, define your repair - upload photo's to our UK service center. Our expert team will examine your repair request. If your repair is accepted, we notify you the same day with FREE shipping instructions. Still not convinced? Read on.
Did we convince you? We knew you'd see sense.