How to diagnose a flat watch battery
While we keep busy running our daily schedules, watches stay active, keeping us on time. Quartz watch movements use small batteries that eventually become flat and need replacing. You may notice your watch has stopped functioning the way it was intended, or the hands become erratic. We've listed below some warning signs that the watch needs a battery replacement.
Signs your watch battery may need replacing:
Your watch has stopped.
Your watch does not keep good time.
The second-hand jumps or freezes.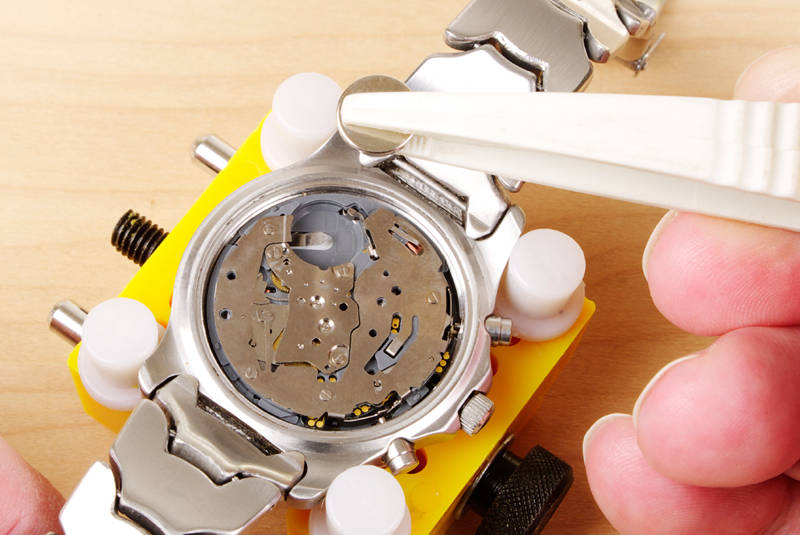 Your watch has just stopped working.
Your watch has completely ground to a halt. You can ensure the optimum performance of your watch by changing the watch battery every 1 – 3 years. If your watch has stopped, it has probably completely drained its battery. If you replace the battery in your watch and the problem persists, this usually suggests a movement fault. Repairs by post can inspect your watch, and fix the problem for you.
The Second Hand Jumps In 5 Second Intervals.
No, your watch has not gone wrong. Some manufacturers provide a low battery warning by making the second-hand jump in intervals (5s). This function is a low power mode. If your watch is in low power mode you should have the battery replaced immediately at a professional watch repair center.
Your watch has moisture underneath the glass.
If your watch shows signs of the moisture inside your watch, you need to have it professionally inspected as soon as possible. Chemicals and humidity can be extremely damaging to all watch movement types. Humidity or moisture would indicate that the seals of your watch have perished or your watch was not resealed after perhaps a battery change.
The faster, less-expensive way to repair any watch. From your home, office or on the go.
The UK's #1 watch repair website at your fingers.
Open a watch repair request, define your repair - upload photo's to our UK service center. Our expert team will examine your repair request. If your repair is accepted, we notify you the same day with FREE shipping instructions. Still not convinced? Read on.
Did we convince you? We knew you'd see sense.