Montblanc watch repair and battery replacement
from £69. Inc postage box, insurance and VAT.
Here at Repairs by post, we offer a fast, easy and convenient way to repair your Montblanc watch. With over 1500 reviews online, we have earnt a reputation as a leading online service centre. Our highly trained watchmakers can resolve most issues, from a simple battery replacement to a complete quartz service.
Discover why thousands of satisfied customers choose Repairs by post for Montblanc watch repair and maintenance.
*Prices inc. VAT and postage both ways. 12-months guarantee, No hidden fees. Open a repair ticket for a free no-obligation watch assessment, or talk to a watch repair expert 0800 121 6030 ( 9am-5pm GMT Mon-Fri. ). No credit card required.
Example: Montblanc Tradition (127775) Quartz service from £309 inc VAT, two-way shipping and 24 month guarantee.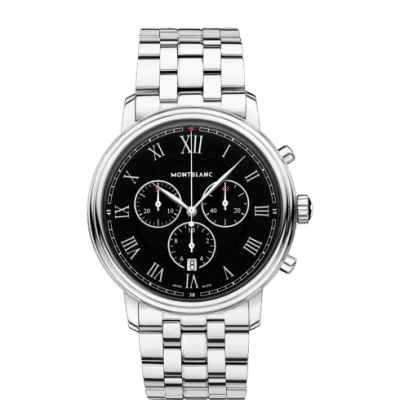 Free, Insured postage
Fully insured to £10K use our free postage pack.
12/24 months Guarantee
Genuine branded parts — unless we tell you.
Fast turn-around
Quicker than your nearest high-street watch shop.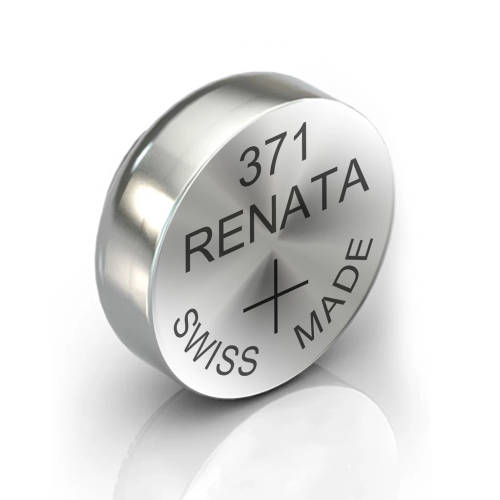 Montblanc watch battery replacement
Montblanc battery died?
Let Repairs by post handle the fuss with our easy to use Montblanc battery replacement postal service. The Montblanc technicians replace batteries for all Montblanc models of ladies and mens wrist-watch.
If you are looking for the nearest local watch battery replacement shop, why not try out easy to use nationwide battery replacement service}.
We use only the best Swiss-made batteries. These are the recommended choice of most Swiss brands.
Your watch is specially resealed to ensure its water-tight gasket meets manufactures ratings and is water resistant again.
During the battery replacement process the Montblanc technician will complete a full inspection of your watch.
Our free inspection ensures your Montblanc watch remains in optimum mechanical and anaesthetic condition, providing peace of mind and extended lifespan for years to come.
It's easy to get started with our online Montblanc battery replacement service. Click the button below and receive your free postal instructions and label.
Montblanc watch repair near me?
Take a walk to your nearest post-office and go direct to the UK's leading Montblanc online watch repair centre.
We've made it safe, fast and FREE to send your Watch to Repairs by post. Just wrap, pack and attach our free Royal Mail postage-paid shipping label. Repairs by post will have your Montblanc watch repair off to a flying start in no-time, and with the peace of mind you're are dealing with Britains leading Montblanc watch repair near me, provider.
It's easy to get started — fill out our watch repair request, and we'll give your watch repair a quick assessment and send you an email with the next steps.
Is my watch insured whilst in transit? (2 min read)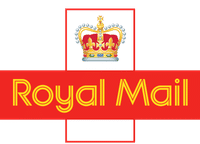 Has your Montblanc watch stopped working, ticking or in need of a service?
If your Montblanc has stopped working or ticking, in need of a service, refurbishment or restoration our expert team can help. We recommended that your Montblanc wristwatch is maintained and looked after professionally to ensure it works for years to come. Repairs by Post offer a fast, professional Montblanc watch repair service by post, from your home, office or on the go. Here are some of the services the Montblanc service centre provides.
Britains #1 Montblanc service centre online for Montblanc repairs and servicing. Can't see the service you need?
*No credit card required. Open a repair ticket for a free no-obligation watch assessment, or talk to a watch repair expert 0800 121 6030 ( 9am-5pm GMT Mon-Fri. )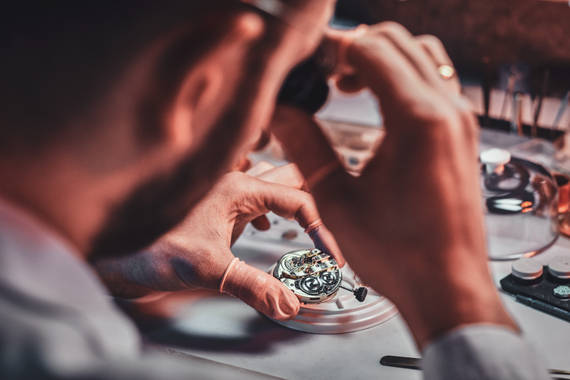 What happens during a Montblanc full service?
Montblanc expert watchmakers service Montblanc quartz and mechanical watches to manufactures standards.
The strap or bracelet of your watch is detached from its case.
The case then opened, and the movement separated. The case is then entirely disassembled.
If we are carrying out a certified manufacture service for luxury brands such as Rolex and Omega the case and bracelet will be re-finished and polished to remove scratches and blemishes. This is carried out by a professional expert polisher.
The inner components are first ultrasonically cleaned then lubricated to minimise friction and wear.
The balance wheel is expertly tested to ensure it's perfectly precise.
The strap undergoes specialist watch cleaning and examination for wear and tear.
Any damaged parts are either refurbished or replaced with genuine or aftermarket equivalent components.
The mechanism is then assembled and reattached to your watch's strap with every seal replaced.
Your timepiece is then finally tested one last time to ensure it's keeping time accurately and to ensure it's still watertight.
All work is convered by a minimum 12 month or 24 month guarantee. Written details available upon request.
Montblanc service and repair costs?
We are unbeaten on price and service for Montblanc servicing and repairs in the UK. As part of our competitive price promise, we will match or beat any written quotation for a like-for-like door-to-door freepost service. Submit an inquiry below to get started.
The faster, less-expensive way to repair any watch. From your home, office or on the go.
Watch Repair Online | FAQ
Open a watch repair request online, tell us about your repair - upload photo's to our UK service centre. Our expert team will examine your online repair request. If your repair is accepted, we notify you the same day with FREE shipping instructions. Still not convinced? Read on.
Did we convince you? We knew you'd see sense.
We're the UK's most-trusted online watch repair service.
We've been providing convenient, affordable watch repair that doesn't compromise on service and quality since 2014, offering a professional repair service with qualified technicians overseeing every repair. In addition, we repair hundreds of brands, which include prestigious names like Rolex, Omega and Cartier. With more than one and a half thousand reviews, we are the UK's most trusted watch repair retailer on the web.
Andriy Svirskyy
Clear communication from beginning to the end, transparent pricing - highly recommend this service.
Chris Jefferys
Excellent quality of workmanship - extremely happy with my beautifully restored watch.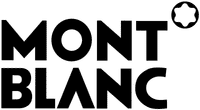 About the Montblanc watch brand
It's has been said that the master craftsmen who manufacture Montblanc watches hold their breath as they do so. They create perfect timepieces which hold the values of the golden age of Swiss watchmaking. The watch brand, though they only began making watches in the 1990s, has held fast to these ancient horological traditions and creates luxury wristwatches that evoke centuries of craftsmanship.
What is the warranty on a Montblanc watch?
When you buy your Montblanc watch, it's covered by a manufactures warranty.
Montblanc offers an international guarantee for a period of two years from the date of purchase which covers defects in manufacturing and materials.
If your Montblanc warranty has expired, Repairs by post can provide an estimate for both watch repairs and servicing. Don't worry, it does not need to break the bank, and you can start for free.
*No credit card required. Open a repair ticket for a free no-obligation watch assessment, or talk to a watch repair expert 0800 121 6030 ( 9am-5pm GMT Mon-Fri. )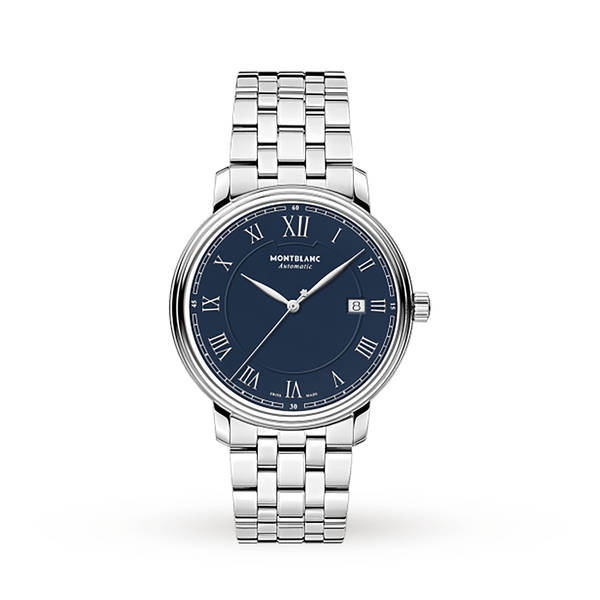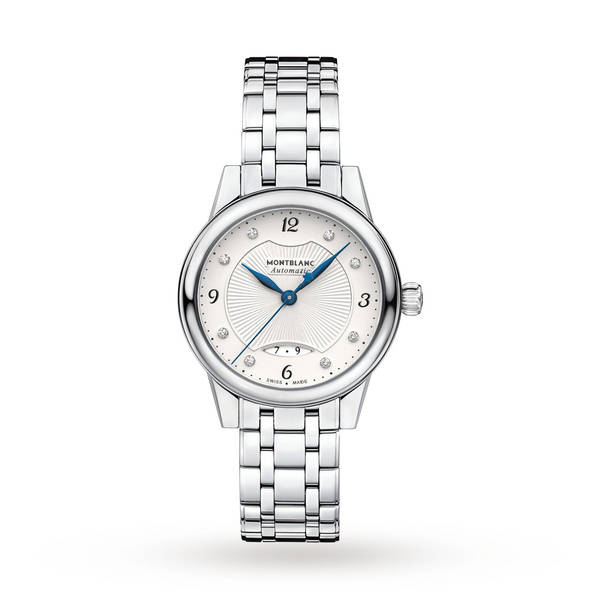 What is the Montblanc watch service interval?
Keep your Montblanc watch in working order periodic servicing according to brand guidelines. These are the recommended service intervals from Montblanc:
12-months water-resistance test.
It is essential to have your watch serviced regularly: Every three years for an automatic/manually wound watch. Every year for COSC* watches (to ensure precision).
If your Montblanc requires a service or water test, Repairs by post can help.
*No credit card required. Open a repair ticket for a free no-obligation watch assessment, or talk to a watch repair expert 0800 121 6030 ( 9am-5pm GMT Mon-Fri. )
Montblanc maintenance and care tips
WATER RESISTANCE
Montblanc recommends that owners have their watch tested for water resistance at least every three years. Failing to do his might lead to the infiltration of water or condensation, which will be detrimental to the movement.
After your watch comes into contact with chlorine or saltwater, you should clean it with warm freshwater and dry with a soft cloth, or leave it to air dry. Chlorine and saltwater can cause your delicate watch to corrode. We specialise in watch refurbishment should your timepiece suffer severe damage.
MAGNETISATION
The modern world has led to magnets being everywhere, including T.V.s, radios and airport security scanners. If you suspect your watch is magnetised, send it to our watch repair company for confirmation and remedy.
Quartz watches will only be affected by magnetic fields for a few seconds, but mechanical watches can suffer long term damage.  Our Montblanc service center is fitted with individual machines to demagnetise your timepiece.
Though Montblanc is relatively new on the scene compared to other watch brands, their traditional watchmaking elements echo that of antique movements.
We are skilled at restoring vintage watches, and Repairs by Post are specialists in mechanical to quartz conversion. Do you have a vintage watch that no longer works? A conversion could be the thing to bring it back to life and allow you to it enjoy it once more. Once converted, you will have peace of mind that we are experts in quartz watch repair.
WINDING YOUR MONTBLANC WATCH
If you have not worn your automatic or manually wound watch for a while, wind it up entirely by turning the crown twenty times.
To ensure the performance of your manually-wound mechanical watch, Montblanc advises owners to wind the crown once a day, preferably at the same time.
If you feel resistance, stop winding.
Do not change the hour or date between 10 p.m. and 2 a.m. This is when the date changes and winding during these times may cause damage to the mechanism.
TEMPERATURE SHOCKS
It's essential you do not expose your watch to sudden temperature changes. When your watch isn't being worn, store it in a cool dark place such as a drawer. Do not expose your Montblanc to temperatures that exceed 60 degrees Celsius, or below 10 degrees Celsius as these can damage the workings of the watch. Should your watch suffer extreme temperature exposure; send it for professional watch repair.
CHEMICAL REACTIONS
Your watch is precious; do not let it come into contact with chemicals, perfumes or liquids that may tarnish your steel Montblanc watch bracelet or damage the appearance of your Montblanc leather strap. You can wash your steel strap with lukewarm water if a damaging liquid comes into contact with it, but always let it dry naturally or use a soft cloth, never use a hairdryer or radiator.
If damage occurs, send it to our expert team for Montblanc watch strap repair or replacement.
*No credit card required. Open a repair ticket for a free no-obligation watch assessment, or talk to a watch repair expert 0800 121 6030 ( 9am-5pm GMT Mon-Fri. )
History of Montblanc watches
Montblanc proclaims to be "The Fathers of Stylish Writing" and this is undoubtedly true, but the brand is also famed for their contribution to the world of horology.
The brand began in the 1900s when ingenuity and imagination were paramount. This led to the development of the innovative fountain pen. With just under twenty years in the luxury timepiece game, Montblanc may be a relative newcomer, but the brand's long-running philosophy of master craftsmanship allowed them to transition into the world of horology with ease. 
The 1920S
By the end of the nineteen-twenties, Montblanc had quickly expanded to become a well-known name in more than 60 countries.
The 1930S
Montblanc expanded their repertoire and took over the manufacture of luxury leather goods, including pen pouches, books, and writing cases.
The 1940S
The original Montblanc premises in Hamburg were destroyed during the Second World War and production was moved to Denmark.
The 1950S
The brand's pens were known across the globe as the most superior writing instrument combining effortless style and function.
The 1960S
"May I help you, Mr Adenauer?" – This now-famous quote was used when John F. Kennedy helped the German chancellor Konrad Adenauer out of a predicament by offering him the use of his Montblanc "Meisterstück 149″ fountain pen.
The 1980S
This extraordinary claim "Montblanc – The Art of Writing" advertising campaign was launched and introduced a revival of the fountain pen.
The 1990S
In 1997 Montblanc Montre S.A. was established in Le Locle – the heart of the Swiss watch industry. This was done in order to maintain the brand's philosophy of master craftsmanship and to satisfy the high-quality expectations of their watches, thanks to their past success in luxury items.
The transition was not without critics as one journalist asked the then CEO"Where do you fill it with ink?"
However, their first collection was the "Meisterstück" – mirroring the name of their successful pen range won immediate approval at the Salon International de la Haute Horlogerie (SIHH), the prestigious watch exhibition in Geneva.
The 2000S
During 2007 Montblanc was able to cement itself further into the world of horology by creating The Institut Minerva de Recherche en Haute Horlogerie in Villeret.
In 2008 the brand showcased their MB R100 calibre, the first movement manufactured in their workshop.
2010 sees Montblanc unveil the innovative Metamorphasis, developed in Villiers. The watch can transform from one watch face to another using a complex series of synchronised components.
Montblanc sees the launch of The Tourbillon Bi-Cylindrique, with its calibre MB65.63, the world's first tourbillon with two cylindrical balance springs.
In 2013 the brand showcased their 1858 collection, with this collection was their most complicated timepiece to date, the ExoTourbillon Rattrapante, combining a split-second chronograph and Montblanc's patented four-minute ExoTourbillon.
Montblanc established "Villeret" as their top line, with additional "1858" pieces added in 2015. It takes up to 300 hours for one of Montblanc's highly skilled craftsmen to produce one of their timepieces.
The faster, less-expensive way to repair any watch. From your home, office or on the go.