Jaeger-LeCoultre watch repair and battery replacement
from £79. Inc postage box, insurance and VAT.
Here at Repairs by post, we offer a fast, easy and convenient way to repair your Jaeger-LeCoultre watch. With over 1500 reviews online, we have earnt a reputation as a leading online service centre. Our highly trained watchmakers can resolve most issues, from a simple battery replacement to a complete Jaeger-LeCoultre restoration.
Discover why thousands of satisfied customers choose Repairs by post for Jaeger-LeCoultre watch repair and maintenance.
*Prices inc. VAT and postage both ways. 12-months guarantee, No hidden fees. Open a repair ticket for a free no-obligation watch assessment, or talk to a watch repair expert 0800 121 6030 ( 9am-5pm GMT Mon-Fri. ). No credit card required.
Example: Jaeger-LeCoultre Reverso (250.5.08) Quartz service: £369 inc VAT, two-way shipping and 24 month guarantee.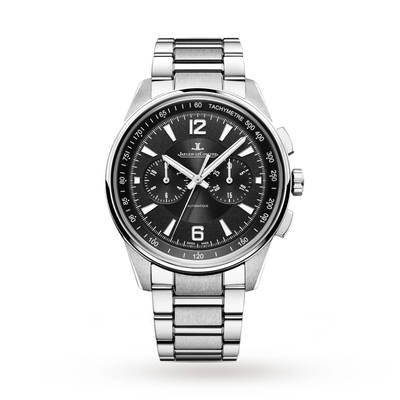 Free, Insured postage
Fully insured to £10K use our free postage pack.
12/24 months Guarantee
Genuine branded parts — unless we tell you.
Fast turn-around
Quicker than your nearest high-street watch shop.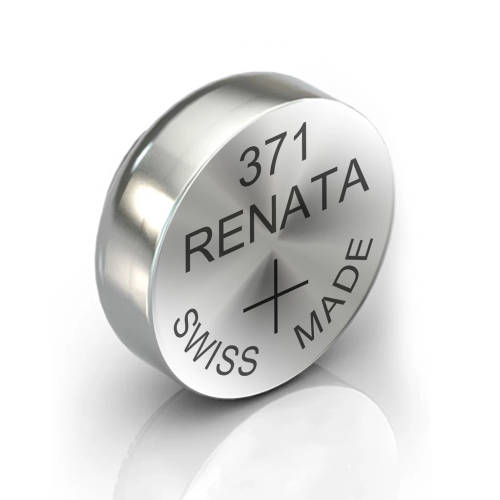 Jaeger-LeCoultre watch battery replacement
Jaeger-LeCoultre battery died?
Let Repairs by post handle the fuss with our easy to use Jaeger-LeCoultre battery replacement postal service. The Jaeger-LeCoultre technicians replace batteries for all Jaeger-LeCoultre models of ladies and mens wrist-watch.
If you are looking for the nearest local watch battery replacement shop, why not try out easy to use nationwide battery replacement service}.
We use only the best Swiss-made batteries. These are the recommended choice of most Swiss brands.
Your watch is specially resealed to ensure its water-tight gasket meets manufactures ratings and is water resistant again.
During the battery replacement process the Jaeger-LeCoultre technician will complete a full inspection of your watch.
Our free inspection ensures your Jaeger-LeCoultre watch remains in optimum mechanical and anaesthetic condition, providing peace of mind and extended lifespan for years to come.
It's easy to get started with our online Jaeger-LeCoultre battery replacement service. Click the button below and receive your free postal instructions and label.
Jaeger-LeCoultre watch repair near me?
Take a walk to your nearest post-office and go direct to the UK's leading Jaeger-LeCoultre online watch repair centre.
We've made it safe, fast and FREE to send your Watch to Repairs by post. Just wrap, pack and attach our free Royal Mail postage-paid shipping label. Repairs by post will have your Jaeger-LeCoultre watch repair off to a flying start in no-time, and with the peace of mind you're are dealing with Britains leading Jaeger-LeCoultre watch repair near me, provider.
It's easy to get started — fill out our watch repair request, and we'll give your watch repair a quick assessment and send you an email with the next steps.
Is my watch insured whilst in transit? (2 min read)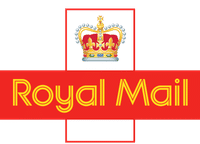 Has your Jaeger-LeCoultre watch stopped working, ticking or in need of a service?
If your Jaeger-LeCoultre has stopped working or ticking, in need of a service, refurbishment or restoration our expert team can help. We recommended that your Jaeger-LeCoultre wristwatch is maintained and looked after professionally to ensure it works for years to come. Repairs by Post offer a fast, professional Jaeger-LeCoultre watch repair service by post, from your home, office or on the go. Here are some of the services the Jaeger-LeCoultre service centre provides.
Britains #1 Jaeger-LeCoultre service centre online for Jaeger-LeCoultre repairs and servicing. Can't see the service you need?
*No credit card required. Open a repair ticket for a free no-obligation watch assessment, or talk to a watch repair expert 0800 121 6030 ( 9am-5pm GMT Mon-Fri. )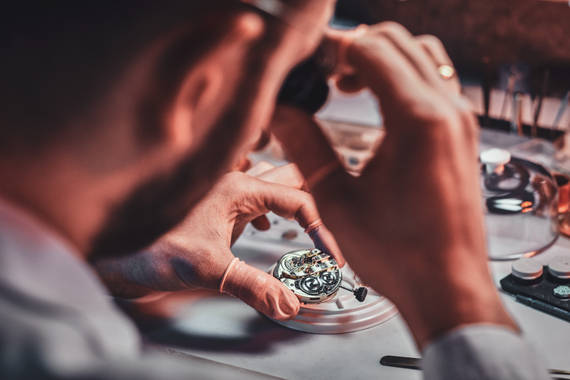 What happens during a Jaeger-LeCoultre full service?
Jaeger-LeCoultre expert watchmakers service Jaeger-LeCoultre quartz and mechanical watches to manufactures standards.
The strap or bracelet of your watch is detached from its case.
The case then opened, and the movement separated. The case is then entirely disassembled.
If we are carrying out a certified manufacture service for luxury brands such as Rolex and Omega the case and bracelet will be re-finished and polished to remove scratches and blemishes. This is carried out by a professional expert polisher.
The inner components are first ultrasonically cleaned then lubricated to minimise friction and wear.
The balance wheel is expertly tested to ensure it's perfectly precise.
The strap undergoes specialist watch cleaning and examination for wear and tear.
Any damaged parts are either refurbished or replaced with genuine or aftermarket equivalent components.
The mechanism is then assembled and reattached to your watch's strap with every seal replaced.
Your timepiece is then finally tested one last time to ensure it's keeping time accurately and to ensure it's still watertight.
All work is convered by a minimum 12 month or 24 month guarantee. Written details available upon request.
Jaeger-LeCoultre service and repair costs?
We are unbeaten on price and service for Jaeger-LeCoultre servicing and repairs in the UK. As part of our competitive price promise, we will match or beat any written quotation for a like-for-like door-to-door freepost service. Submit an inquiry below to get started.
The faster, less-expensive way to repair any watch. From your home, office or on the go.
Watch Repair Online | FAQ
Open a watch repair request online, tell us about your repair - upload photo's to our UK service centre. Our expert team will examine your online repair request. If your repair is accepted, we notify you the same day with FREE shipping instructions. Still not convinced? Read on.
Did we convince you? We knew you'd see sense.
We're the UK's most-trusted online watch repair service.
We've been providing convenient, affordable watch repair that doesn't compromise on service and quality since 2014, offering a professional repair service with qualified technicians overseeing every repair. In addition, we repair hundreds of brands, which include prestigious names like Rolex, Omega and Cartier. With more than one and a half thousand reviews, we are the UK's most trusted watch repair retailer on the web.
Thomas Cornwall
Extremely happy with the repair of my watch. I had been trying for a while with other such people to no avail. Contacted Repairs by Post and they were able to carry out the required repairs. Kept me updated throughout the complete process and when my watch was returned I was impressed by their work.
Claire Barton
Excellent service from Jonathan and the team. I really thought it would cost a fortune to get my Daughters watch fixed but it didn't! .Quick turnaround too. Definitely recommend.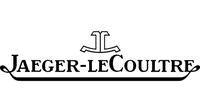 About the Jaeger-LeCoultre watch brand
With an expensive piece of jewellery such as a Jaeger-LeCoultre, you must have it maintained and serviced regularly. You will be able to appreciate the quality of your luxury watch for longer when it is kept in its optimum working order.
Our watch servicing team have the skills to optimise the performance of your Jaeger-LeCoultre watch. We would advise our customers to maintain regular upkeep of their watches and have it sent away for servicing whenever necessary.
Our general advice for watch customers is to send their timepiece to Repairs by Post every 3-5 years. Maintenance can vary and will be dependent on the wear and tear your watch undergoes.
What is the warranty on a Jaeger-LeCoultre watch?
When you buy your Jaeger-LeCoultre watch, it's covered by a manufactures warranty.
Your Jaeger‑LeCoultre watch is guaranteed against all manufacturing defects for two years from the date of purchase.
If your Jaeger-LeCoultre warranty has expired, Repairs by post can provide an estimate for both watch repairs and servicing. Don't worry, it does not need to break the bank, and you can start for free.
*No credit card required. Open a repair ticket for a free no-obligation watch assessment, or talk to a watch repair expert 0800 121 6030 ( 9am-5pm GMT Mon-Fri. )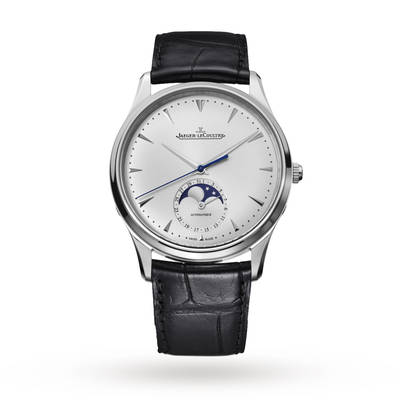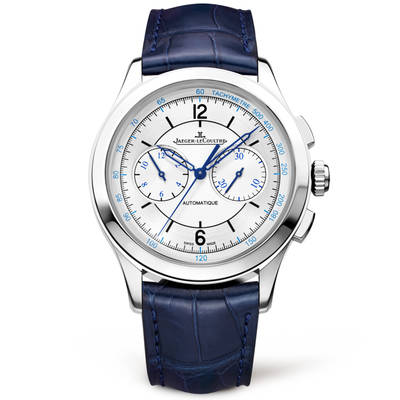 What is the Jaeger-LeCoultre watch service interval?
Keep your Jaeger-LeCoultre watch in working order periodic servicing according to brand guidelines. These are the recommended service intervals from Jaeger-LeCoultre:
12-months water-resistance test.
If your Jaeger-LeCoultre requires a service or water test, Repairs by post can help.
*No credit card required. Open a repair ticket for a free no-obligation watch assessment, or talk to a watch repair expert 0800 121 6030 ( 9am-5pm GMT Mon-Fri. )
Jaeger-LeCoultre maintenance and care tips
AVOID WATER AND DUST DAMAGE
At Repairs By Post, we offer our customers the best advice in maintaining their timepieces. Make sure that your Jaeger-LeCoultre watches crown, which is used to change the hands/date, is properly pushed in and/or screwed at all times.
This simple action is highly essential for your timepiece as this will prevent infiltration of water or dust, which could lead to internal damage. If your watch does undergo damage of this kind, then we recommend that you contact us for Jaeger-LeCoultre repair.
JAEGER-LECOULTRE BATTERY REPLACEMENT
Like most timepieces, batteries in Jaeger-LeCoultre watches should last for up to three years. It's crucial that when your battery dies, you contact the experts at Repairs by Post for watch battery replacement.
Did you know that dead battery cells can harm the watch movement if left unattended? Contact a member of our team today for more information about Jaeger-LeCoultre battery replacement.
WATCHES AND TEMPERATURE
Watches are susceptible instruments. Therefore, it is essential to avoid your watch from being exposed to rapid changes in temperature, both hot and cold.
Specific temperatures and movements can damage your timepiece. If your watch is if exposed to temperatures above 60 degrees it could damage the inside or outside of your watch, therefore, it is recommended to avoid leaving your watch in high-risk areas such as windows.
WATCH SHOCKS AND VIBRATIONS
Our watch experts recommend that you do not wear your Jaeger-LeCoultre timepiece during an activity where it may be damaged easily. You may overestimate the strength of your watch, and even the smallest bumps or knocks may damage the mechanisms of your watch.
If your watch has had a significant bump or shock, we do recommend that you have it sent to a watch specialist for a once over. Our watch repair team have the expertise that can examine the inner workings of your timepiece.
To avoid this, we suggest that you remove your Jaeger-LeCoultre watch and keep it in a safe place, before undertaking any sporting activities or heavy physical work.
*No credit card required. Open a repair ticket for a free no-obligation watch assessment, or talk to a watch repair expert 0800 121 6030 ( 9am-5pm GMT Mon-Fri. )
History of Jaeger-LeCoultre watches
LeCoultre was a master watch designer who distinguished himself as one of the world's most innovative watch creators. Still, to this day, Jaeger-LeCoultre stands as one of the most well-known watchmakers. Even into the digital age, the brand still continues to conquered new technology. The Manufacture of Jaeger watches has developed steadily over the years growing and constructing new extensions. Jaeger-LeCoultre became a sophisticated brand made up of two backgrounds. However, the watches still kept their character. When Jaeger and LeCoultre came together, it created horology that tradition and innovation. This super brand stands and supports that mechanical watches should be hand designed and crafted. Their ideology stands for quality components within their instruments.
Therefore, the manufacturer produces an exceptional range of movements with 38 different calibres. Its horological repertoire goes from the world's smallest mechanical movement Calibre 101 to tourbillons, minute repeater mechanisms, calendars, moon-phase and power-reserve displays, chronographs, alarm and dual time-zone Jaeger-LeCoultre watches.
1833
Master horologist, Antoine LeCoultre, founded a legendary watchmaking workshop in Le Sentier. The workshop created, crafted and finished all by hand.
1844
This was the year that Antoine LeCoultre invents the "Millionometer". This watches incredibly innovative at the time, and it was the first instrument that was capable of measuring a micron, a millionth of a metro. This watch also established the metric system as the standardised watch measurement.
1847
The brand continues to advance and in 1847, LeCoultre & Co-produced the first movement watch with a crown winding system that set the time. This was revolutionary as it meant that keys were no longer necessary for winding watches.
1925
The twin-level rectangular Duoplan movement is created. This instrument was built with extraordinary precision and features an interchangeable movement concept.
1931
The Jaeger-LeCoultre Reverso is invented. It has a unique case which swivels to tum its back on shocks and protects its glass. Jaeger-LeCoultre Reverso has shown its ability to perpetuate the modern charm of the Art Deco style. The brands officially merged in 1937 as Jaeger S.A. and LeCoultre merged officially becoming Jaeger-LeCoultre.
1953
The Jaeger-LeCoultre Futurematic is the first automatic watch with no winding-crown.
1956
The Jaeger-LeCoultre Memovox is the first automatic alarm wristwatch.
1991
1991 was the 60th anniversary of the swivel watch and Jaeger-LeCoultre fits the Jaeger-LeCoultre Reverso with a complication movement.
1992
The Master Control 1000 Hours introduces new standards of reliability for automatic wristwatches. It underwent 1000 hours of stringent tests before being certified by a numbered gold seal on the case-back.
1997
The Jaeger-LeCoultre Reverso Duetto is released and is completely elegant and reveals one side and the night on the other.
1998
The Jaeger-LeCoultre watch Reverso Gran Sport is released. Jaeger LeCoultre combine "the art of living the present" with watchmaking technology.
1999
Jaeger-LeCoultre creates an original version of the Jaeger-LeCoultre Atmos. The Atmos du Millénaire shows the years, the months, and moon phases over 1000 years.
2000
The Master Grande Jaeger-LeCoultre Memovox adds a calendar and alarm to the Master Control range.
2001
The Jaeger-LeCoultre Reverso Platinum is is the first Reverso with an open-worked movement. This design began the new dynasty of Limited series of 500.
2019
The Jaeger-LeCoultre Reverso Platinum is is the first Reverso with an open-worked movement. This design began the new dynasty of Limited series of 500.
JAEGER-LECOULTRE REVERSO
In August 2019, Jaeger‑LeCoultre announced the production of the limited edition Jaeger‑LeCoultre Polaris Date Only 800 pieces would be made. The new Jaeger‑LeCoultre Polaris Date combines the Manufacture's high-watchmaking expertise and vintage design motifs, with a modern twist. Inspiration was taken from the 1970 Polaris II; the contemporary version has a hand-lacquered blue gradient dial. Unique to this model is the blue rubber Clous de Paris strap, the colour matched inner bezel which rotates. The Arabic numerals are elongated and painted with a vanilla luminescent coating as are the hands, similar to the Polaris watches of the 1960s and 70s.
Also in 2019, they launched the fully gem-set interpretation of Dazzling Rendez-Vous. The Dazzling Rendez-Vous Moon bezel has 108 diamonds with a dial of a white mother of pearl.
The faster, less-expensive way to repair any watch. From your home, office or on the go.