IWC watch repair and battery replacement
from £109. Inc postage box, insurance and VAT.
Here at Repairs by post, we offer a fast, easy and convenient way to repair your IWC watch. With over 1500 reviews online, we have earnt a reputation as a leading online service centre. Our highly trained watchmakers can resolve most issues, from a simple battery replacement to a complete IWC restoration.
Discover why thousands of satisfied customers choose Repairs by post for IWC watch repair and maintenance.
*Prices inc. VAT and postage both ways. 12-months guarantee, No hidden fees. Open a repair ticket for a free no-obligation watch assessment, or talk to a watch repair expert 0800 121 6030 ( 9am-5pm GMT Mon-Fri. ). No credit card required.
Example: IWC Portofino (IW357001) Quartz service: £419 inc VAT, two-way shipping and 24 month guarantee.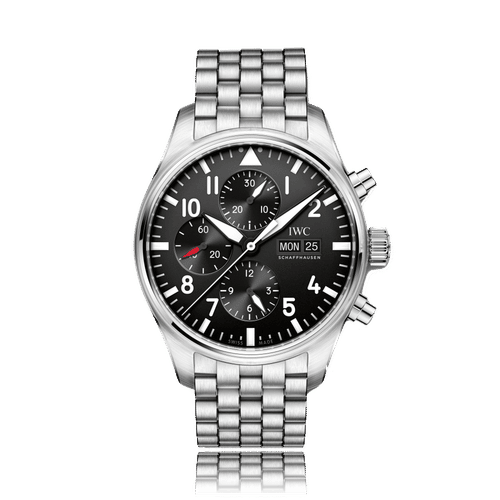 Free, Insured postage
Fully insured to £10K use our free postage pack.
12/24 months Guarantee
Genuine branded parts — unless we tell you.
Fast turn-around
Quicker than your nearest high-street watch shop.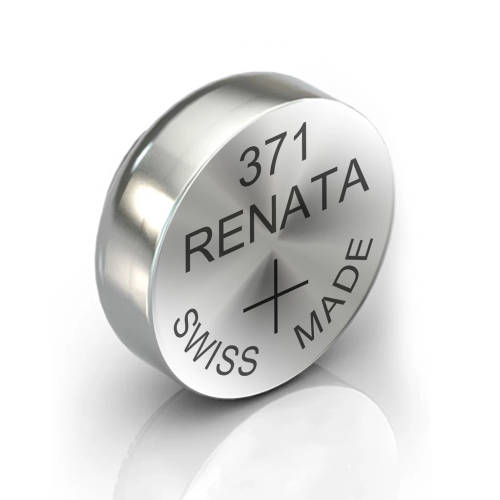 IWC watch battery replacement
IWC battery died?
Let Repairs by post handle the fuss with our easy to use IWC battery replacement postal service. The IWC technicians replace batteries for all IWC models of ladies and mens wrist-watch.
If you are looking for the nearest local watch battery replacement shop, why not try out easy to use nationwide battery replacement service}.
We use only the best Swiss-made batteries. These are the recommended choice of most Swiss brands.
Your watch is specially resealed to ensure its water-tight gasket meets manufactures ratings and is water resistant again.
During the battery replacement process the IWC technician will complete a full inspection of your watch.
Our free inspection ensures your IWC watch remains in optimum mechanical and anaesthetic condition, providing peace of mind and extended lifespan for years to come.
It's easy to get started with our online IWC battery replacement service. Click the button below and receive your free postal instructions and label.
IWC watch repair near me?
Take a walk to your nearest post-office and go direct to the UK's leading IWC online watch repair centre.
We've made it safe, fast and FREE to send your Watch to Repairs by post. Just wrap, pack and attach our free Royal Mail postage-paid shipping label. Repairs by post will have your IWC watch repair off to a flying start in no-time, and with the peace of mind you're are dealing with Britains leading IWC watch repair near me, provider.
It's easy to get started — fill out our watch repair request, and we'll give your watch repair a quick assessment and send you an email with the next steps.
Is my watch insured whilst in transit? (2 min read)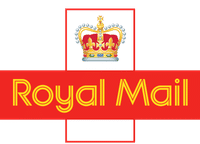 Has your IWC watch stopped working, ticking or in need of a service?
If your IWC has stopped working or ticking, in need of a service, refurbishment or restoration our expert team can help. We recommended that your IWC wristwatch is maintained and looked after professionally to ensure it works for years to come. Repairs by Post offer a fast, professional IWC watch repair service by post, from your home, office or on the go. Here are some of the services the IWC service centre provides.
Britains #1 IWC service centre online for IWC repairs and servicing. Can't see the service you need?
*No credit card required. Open a repair ticket for a free no-obligation watch assessment, or talk to a watch repair expert 0800 121 6030 ( 9am-5pm GMT Mon-Fri. )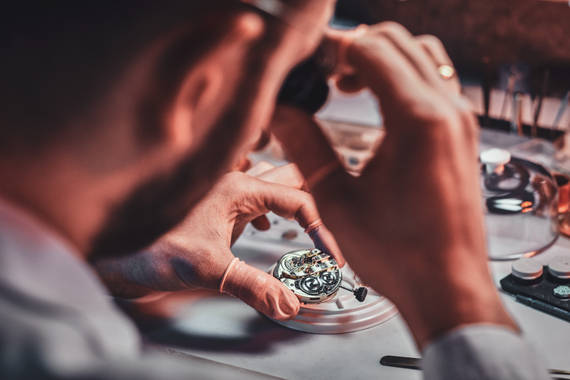 What happens during a IWC full service?
IWC expert watchmakers service IWC quartz and mechanical watches to manufactures standards.
The strap or bracelet of your watch is detached from its case.
The case then opened, and the movement separated. The case is then entirely disassembled.
If we are carrying out a certified manufacture service for luxury brands such as Rolex and Omega the case and bracelet will be re-finished and polished to remove scratches and blemishes. This is carried out by a professional expert polisher.
The inner components are first ultrasonically cleaned then lubricated to minimise friction and wear.
The balance wheel is expertly tested to ensure it's perfectly precise.
The strap undergoes specialist watch cleaning and examination for wear and tear.
Any damaged parts are either refurbished or replaced with genuine or aftermarket equivalent components.
The mechanism is then assembled and reattached to your watch's strap with every seal replaced.
Your timepiece is then finally tested one last time to ensure it's keeping time accurately and to ensure it's still watertight.
All work is convered by a minimum 12 month or 24 month guarantee. Written details available upon request.
IWC service and repair costs?
We are unbeaten on price and service for IWC servicing and repairs in the UK. As part of our competitive price promise, we will match or beat any written quotation for a like-for-like door-to-door freepost service. Submit an inquiry below to get started.
The faster, less-expensive way to repair any watch. From your home, office or on the go.
Watch Repair Online | FAQ
Open a watch repair request online, tell us about your repair - upload photo's to our UK service centre. Our expert team will examine your online repair request. If your repair is accepted, we notify you the same day with FREE shipping instructions. Still not convinced? Read on.
Did we convince you? We knew you'd see sense.
We're the UK's most-trusted online watch repair service.
We've been providing convenient, affordable watch repair that doesn't compromise on service and quality since 2014, offering a professional repair service with qualified technicians overseeing every repair. In addition, we repair hundreds of brands, which include prestigious names like Rolex, Omega and Cartier. With more than one and a half thousand reviews, we are the UK's most trusted watch repair retailer on the web.
Alan Drew
Great communication; speedy no-nonsense repair of my IWC watch. Thanks Jonathan.
Paul Collins
Great prices. Good communication. All round superb service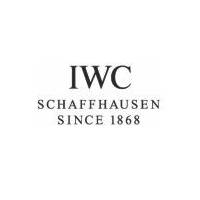 About the IWC watch brand
IWC watches an important history in the watchmaking industry. Starting at the very beginning, the foundations of watchmaking in Schaffhausen were laid by an American, Florentine Ariosto Jones in 1868.
ICW thank Jones for beginning the watch movement in Schaffhausen and believe that "his pioneering spirit and innovative approach to engineering, design and the art of making beautiful watches".
The brand claim that each IWC family represents a different theme. These themes are rich and evocative expressions of the IWC Schaffhausen universe and are the inspiration for their partnerships, events, exclusive brand experiences and unique projects; all of which can be found on their official website.
Today the brand creates for the premium international luxury watch market, with time on their side, IWC has committed years to manufacture top-quality products in haute Horlogerie.
Now as one of the most successful watch brands in the world, IWC have over 1100 employees, including 120 eminently qualified watchmakers.
IWC are now a globally recognised watch brand and manufacturer in eastern Switzerland. They have over 900 sales outlets worldwide, including over 60 IWC boutiques in cities such as New York, Beijing, Dubai, Hong Kong, Geneva, Paris and Moscow.
IWC are a company that takes its economic, social and ecological accountabilities seriously. In the past, the brand has worked with Laureus Sport for Good Foundation, which works with physically and socially handicapped children and young people who live all over the world.
IWC also supports the Charles Darwin Foundation in its attempt to maintain flora and fauna on the Galapagos Islands.
This watch brand is also conscious about the environment and uses green energy, recycles waste heat and ensures that its operations are CO²-neutral.
What is the warranty on a IWC watch?
When you buy your IWC watch, it's covered by a manufactures warranty.
IWC warrants its watches for two years from the date of purchase.
If your IWC warranty has expired, Repairs by post can provide an estimate for both watch repairs and servicing. Don't worry, it does not need to break the bank, and you can start for free.
*No credit card required. Open a repair ticket for a free no-obligation watch assessment, or talk to a watch repair expert 0800 121 6030 ( 9am-5pm GMT Mon-Fri. )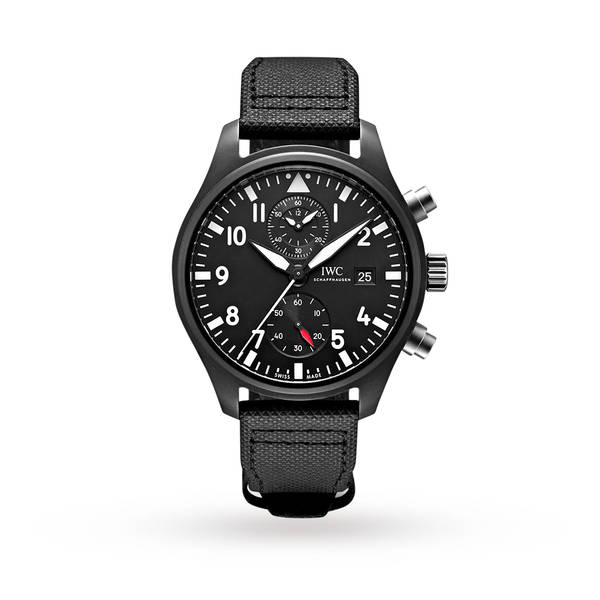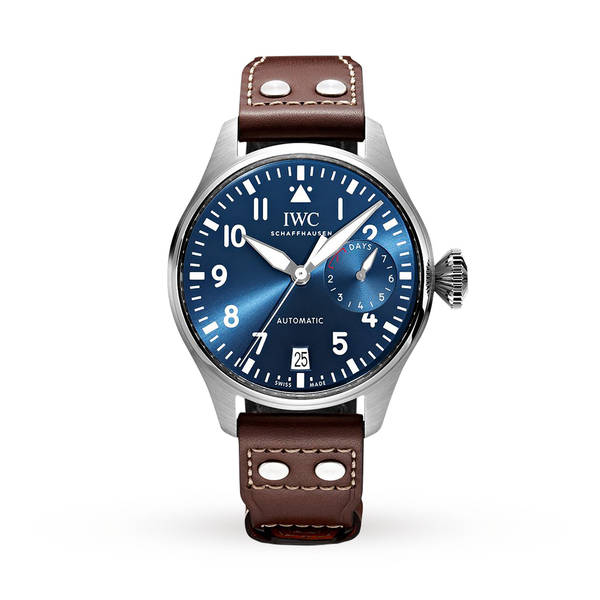 What is the IWC watch service interval?
Keep your IWC watch in working order periodic servicing according to brand guidelines. These are the recommended service intervals from IWC:
12-months water-resistance test.
IWC recommends a full service every five years.
If your IWC requires a service or water test, Repairs by post can help.
*No credit card required. Open a repair ticket for a free no-obligation watch assessment, or talk to a watch repair expert 0800 121 6030 ( 9am-5pm GMT Mon-Fri. )
IWC maintenance and care tips
IWC BATTERY REPLACEMENT
Like most timepieces, batteries in IWC watches should last for up to three years. It's essential that when your battery dies, you contact the experts at Repairs by Post for watch battery replacement. Did you know that dead battery cells can harm the watch movement if left unattended? Contact a member of our team today for more information about IWC battery replacement.
IWC WATCH SERVICING
Make sure you are maintaining your IWC timepiece. When investing in a piece of luxury wristwear, ensure that your watch is continually accurate and in good working order to keep it in the best shape.
To optimise the performance of your IWC watch, regular upkeep and servicing are necessary. Repairs by Post recommended that you service your watch every 3-5 years. Maintenance can vary and will depend on the wear and tear your watch undergoes.
AVOID WATER AND DUST DAMAGE
Make sure that your IWC watches crown, which is used to change the hands/date, is properly pushed in and screwed at all times. This is highly important for your timepiece as this will prevent infiltration of water or dust, which could lead to internal damage.
CHEMICAL REACTIONS
Your watch is precious; do not let it come into contact with chemicals, perfumes or liquids that may tarnish your steel IWC watch bracelet or damage the appearance of your IWC leather strap. You can wash your steel strap with lukewarm water if a damaging liquid comes into contact with it, but always let it dry naturally or use a soft cloth, never use a hairdryer or radiator.
TEMPERATURE
It's important you do not expose your watch to sudden temperature changes. When your watch isn't being worn, store it in a cool dark place such as a drawer. Do not expose your IWC to temperatures that exceed 60 degrees Celsius, or below 10 degrees Celsius as these can damage the workings of the watch. Should your watch suffer extreme temperature exposure; send it for professional watch repair.
Specific temperatures and movements can damage your timepiece. If your watch is if exposed to temperatures above 60 degrees it could damage the inside or outside of your watch, therefore, it is recommended to avoid leaving your watch in high-risk areas such as windows.
WATCH SHOCKS AND VIBRATIONS
Don't wear your watch during events where it could receive bumps or knocks. This could affect the inner workings of the mechanism and bracelet. Remove your IWC watch and keep it in a safe place before undertaking any sporting activities or heavy physical work.
*No credit card required. Open a repair ticket for a free no-obligation watch assessment, or talk to a watch repair expert 0800 121 6030 ( 9am-5pm GMT Mon-Fri. )
History of IWC watches
1868
Florentine A Jones, was a Boston engineer, who moved to Switzerland and built IWC (International Watch Co.) in Schaffhausen.
Using a hydroelectric power plant, he offered consecutive power for the machines and invited a skilled watchmaker trained in the traditional watchmaking skill to join him in Schaffhausen.
1885
The first watches that used the patented Pallweber system were made. This watch had a digital hour and minute display. IWC became the first brand to do this in the world.
1887
"Magique" was the first pocket watch to feature a cabriolet case and a 24-hour display.
1893
IWC started to produce Calibre 52 pocket watch movement.
1899
IWC produced their first wristwatches.
1915
IWC firstly developed calibres for wristwatches, the Calibre 75 and 76.
1935
IWC firstly launched the Mark IX that was specially designed for pilots.
1938
IWC produced large Portuguese wristwatch that was equipped with accurate, reliable pocket watch movement.
1944
IWC launched the waterproof wristwatch (WWW) that was the appropriative watch for the British Army.
1950
IWC launched the first automatic movement watch.
1955
The birth of automatic Ingenieur wristwatch.
1959
IWC's first automatic movement for ladies' wristwatches.
1967
The Aquatimer Automatic was launched that was water-resistant to 200 meters; it was the watch for professional divers.
1970
The first wristwatch that used Beta-21 quartz movement was born, named Da Vinci.
1993
For celebrating the 125 anniversary of IWC, it launched 125 pieces of II Destriero Scafusia; the masterpiece featured a tourbillon, split-seconds, minute repeater and perpetual calendar.
1998
IWC designers developed the UTC Pilot's Watch.
2009
IWC launched a new generation of Aquatimer and new models.
2010
IWC launched the Tourbillon Mystere Retrograde that firstly combined the flying tourbillon and the retrograde function.
2012
IWC launched five new Top Gun watches, a Spitfire Perpetual Calendar Digital Date-Month and a Pilot's- Watch Worldtimer.
2013
To celebrate the cooperation with MERCEDES AMG PETRONAS Formula One Team, IWC launched the upgraded Ingenieur.
2014
Two new high-tech Ingenieur watches were released as well as three Aquatimer models.
2019
New for 2019 is the Spitfire line, featuring only IWC-manufactured calibres. Also, there will be a new TOP GUN line and "Le Petit Prince" special editions.
The faster, less-expensive way to repair any watch. From your home, office or on the go.