Hublot watch repair and servicing
from £155. Inc postage pack, insurance cover and VAT.
Repairs by post offer a wide range of services for your Hublot. We provide expert repair and restoration services covered by a 24-month guarantee. We also provide repair and restoration services for vintage pieces. For example, cases and bracelets can be polished and refurbished to look almost new.
*Prices inc. VAT and postage both ways. No hidden fees. Open a repair ticket for a free no-obligation watch assessment, or talk to a watch repair expert 0800 121 6030 ( 9am-5pm GMT Mon-Fri. ). No credit card required.
Example: Hublot Big Bang (361.sx.1270.rx.1104) Quartz service: £389 inc VAT, two-way shipping and 24 months guarantee.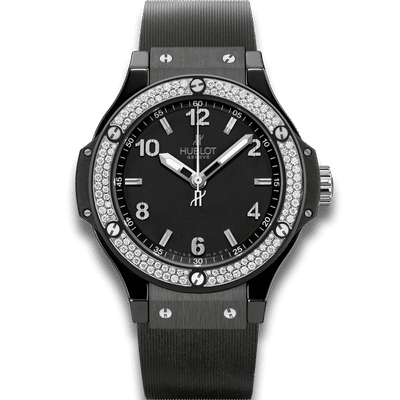 Free, Insured postage
Fully insured to £10K use our free postage pack.
12/24 months Guarantee
Genuine branded parts — unless we tell you.
Fast turn-around
Quicker than your nearest high-street watch shop.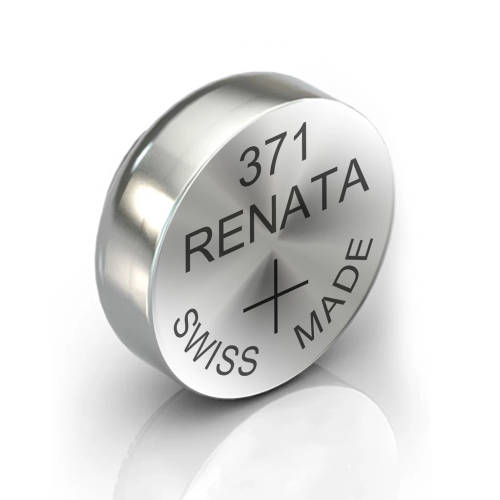 Hublot watch battery replacement
Hublot battery died?
Let Repairs by post handle the fuss with our easy to use Hublot battery replacement postal service. The Hublot technicians replace batteries for all Hublot models of ladies and mens wrist-watch.
If you are looking for the nearest local watch battery replacement shop, why not try out easy to use nationwide battery replacement service}.
We use only the best Swiss-made batteries. These are the recommended choice of most Swiss brands.
Your watch is specially resealed to ensure its water-tight gasket meets manufactures ratings and is water resistant again.
During the battery replacement process the Hublot technician will complete a full inspection of your watch.
Our free inspection ensures your Hublot watch remains in optimum mechanical and anaesthetic condition, providing peace of mind and extended lifespan for years to come.
It's easy to get started with our online Hublot battery replacement service. Click the button below and receive your free postal instructions and label.
Hublot watch repair near me?
Take a walk to your nearest post-office and go direct to the UK's leading Hublot online watch repair centre.
We've made it safe, fast and FREE to send your Watch to Repairs by post. Just wrap, pack and attach our free Royal Mail postage-paid shipping label. Repairs by post will have your Hublot watch repair off to a flying start in no-time, and with the peace of mind you're are dealing with Britains leading Hublot watch repair near me, provider.
It's easy to get started — fill out our watch repair request, and we'll give your watch repair a quick assessment and send you an email with the next steps.
Is my watch insured whilst in transit? (2 min read)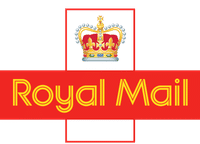 Has your Hublot watch stopped working, ticking or in need of a service?
If your Hublot has stopped working or ticking, in need of a service, refurbishment or restoration our expert team can help. We recommended that your Hublot wristwatch is maintained and looked after professionally to ensure it works for years to come. Repairs by Post offer a fast, professional Hublot watch repair service by post, from your home, office or on the go. Here are some of the services the Hublot service centre provides.
Britains #1 Hublot service centre online for Hublot repairs and servicing. Can't see the service you need?
*No credit card required. Open a repair ticket for a free no-obligation watch assessment, or talk to a watch repair expert 0800 121 6030 ( 9am-5pm GMT Mon-Fri. )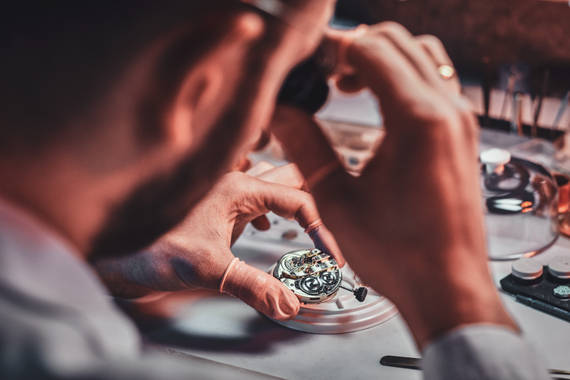 What happens during a Hublot full service?
Hublot expert watchmakers service Hublot quartz and mechanical watches to manufactures standards.
The strap or bracelet of your watch is detached from its case.
The case then opened, and the movement separated. The case is then entirely disassembled.
If we are carrying out a certified manufacture service for luxury brands such as Rolex and Omega the case and bracelet will be re-finished and polished to remove scratches and blemishes. This is carried out by a professional expert polisher.
The inner components are first ultrasonically cleaned then lubricated to minimise friction and wear.
The balance wheel is expertly tested to ensure it's perfectly precise.
The strap undergoes specialist watch cleaning and examination for wear and tear.
Any damaged parts are either refurbished or replaced with genuine or aftermarket equivalent components.
The mechanism is then assembled and reattached to your watch's strap with every seal replaced.
Your timepiece is then finally tested one last time to ensure it's keeping time accurately and to ensure it's still watertight.
All work is convered by a minimum 12 month or 24 month guarantee. Written details available upon request.
Hublot service and repair costs?
We are unbeaten on price and service for Hublot servicing and repairs in the UK. As part of our competitive price promise, we will match or beat any written quotation for a like-for-like door-to-door freepost service. Submit an inquiry below to get started.
The faster, less-expensive way to repair any watch. From your home, office or on the go.
Watch Repair Online | FAQ
Open a watch repair request online, tell us about your repair - upload photo's to our UK service centre. Our expert team will examine your online repair request. If your repair is accepted, we notify you the same day with FREE shipping instructions. Still not convinced? Read on.
Did we convince you? We knew you'd see sense.
We're the UK's most-trusted online watch repair service.
We've been providing convenient, affordable watch repair that doesn't compromise on service and quality since 2014, offering a professional repair service with qualified technicians overseeing every repair. In addition, we repair hundreds of brands, which include prestigious names like Rolex, Omega and Cartier. With more than one and a half thousand reviews, we are the UK's most trusted watch repair retailer on the web.
David Graham
These are skilful, professional and fast. Some may find them expensive but quality and skill does not grow on trees and for owners of quality watches - whether vintage or new - this should be a port of first call. They've done superb restorative and maintenance work on my Marathon and Omega watches in the last 12 months. I'll be back!
JSP
Very efficient service! When returned, the watch was in a very nice travel case which I thought was a very nice touch - thank you Jonathan, good customer service! I would certainly use Repairs By Post again.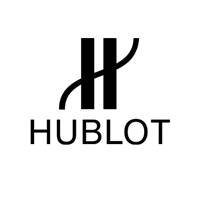 About the Hublot watch brand
Hublot's watches are described as the "Art of Fusion" thanks to their watch brand being the first to combine gold and rubber together in a timepiece in 1980 and their continuous innovation since then. These designs incorporate century's old watchmaking skill with all the technical know-how to make a successful watch in today's market.
Each Hublot watch is crafted in Switzerland using their innovative manufacturing process. From a sketch of a product or movement to a virtual 3D model, followed by a working prototype and finally serial production, the entire process requires patience, expertise and a lot of trial and error until it finally reaches the owner.
These precision pieces must be well looked after to preserve their time-keeping abilities through periodic Hublot watch repair.
What is the warranty on a Hublot watch?
When you buy your Hublot watch, it's covered by a manufactures warranty.
Your Hublot watch is guaranteed against all manufacturing defects for a period of two years from the date of purchase.
If your Hublot warranty has expired, Repairs by post can provide an estimate for both watch repairs and servicing. Don't worry, it does not need to break the bank, and you can start for free.
*No credit card required. Open a repair ticket for a free no-obligation watch assessment, or talk to a watch repair expert 0800 121 6030 ( 9am-5pm GMT Mon-Fri. )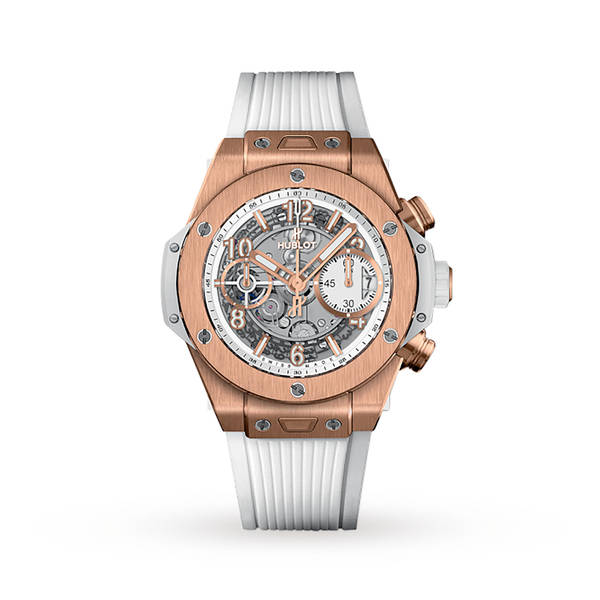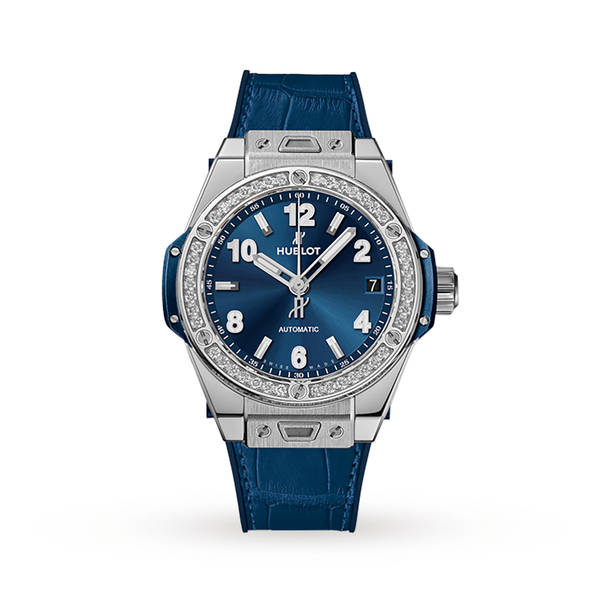 What is the Hublot watch service interval?
Keep your Hublot watch in working order periodic servicing according to brand guidelines. These are the recommended service intervals from Hublot:
12-months water-resistance test.
If your Hublot requires a service or water test, Repairs by post can help.
*No credit card required. Open a repair ticket for a free no-obligation watch assessment, or talk to a watch repair expert 0800 121 6030 ( 9am-5pm GMT Mon-Fri. )
Hublot maintenance and care tips
HUBLOT WATCH SERVICE
Hublot recommends a complete overhaul service every 3 to 5 years - this is due to the natural wear and tear that watches undergo during everyday life. The frequency that your Hublot watch requires servicing is reliant upon the lifestyle and model you wear.
HUBLOT BATTERY REPLACEMENT
A battery powers quartz watches. The battery should be changed if the watch exhibits any time loss, stops altogether, or if the second's hand jumps in 4-second steps. Leaving a dead battery in your watch might lead to long term damage, so it's essential to send it for watch battery replacement as soon as you notice it's not keeping time accurately.
During a battery replacement is an ideal time to have the gaskets and crowns checked and have them replaced by Repairs By Post.
WATER RESISTANCE
Since your Hublot watch case is water-resistant, as are the ceramic, carbon, gold or steel straps your watch can be easily cleaned with lukewarm soapy water. Always dry your Hublot watch naturally or with a soft cloth. Never use a hairdryer or radiator.
If your Hublot watch has an alligator strap, please remove it when bathing.
Should your Hublot watch come into contact with chlorine or salt water, rinse with fresh water as these liquids can cause damage to the internal workings and tarnish the case.
AVOID SHOCKS AND VIBRATIONS
Unnecessary shocks and vibrations might cause premature damage to your watch or Hublot bracelet. This might also affect its water-resistance if constantly experiencing shocks.
TEMPERATURE
Temperature shocks are also dangerous for your watch to experience. Do not let your watch be exposed to heat over 60 degrees Celsius or below 10 degrees Celsius. This will damage the internal intricacies; keep your watch in a cool dark place such as a drawer when not being worn and out of direct sunlight.
MAGNETISATION
There are magnets all around us, though we don't always realise this. Magnets include:
TVs
Radios
Airport security scanners
iPad and Tablets
If you suspect your watch is magnetised, send it to our watch repair company for confirmation and remedy. It's worth noting that quartz watches will only be affected by magnetic fields for a few seconds, but mechanical watches can suffer long term damage.
HOW TO TELL IF YOUR HUBLOT WATCH IS MAGNETISED:
Place your watch near a classic-style compass. If the needle starts to move, your watch is magnetised. You should send your watch for Hublot watch repairs.
*No credit card required. Open a repair ticket for a free no-obligation watch assessment, or talk to a watch repair expert 0800 121 6030 ( 9am-5pm GMT Mon-Fri. )
History of Hublot watches
The 1970S
In terms of horology, Hublot is relatively new on the scene; however, this does not make the watches recreated by this Swiss brand any less impressive. The brand began when Carlo Crocco of the Binda Group, known for their Breil watches left the company to forge a career in the timepiece world alone.
The 1980S
Hublot launched officially in 1980 with original "Hublot" watch. Hublot is the French word for "porthole", the signature shape of the watches. Another key signature of the Hublot style is the fusion of gold and rubber; the brand was the first of their kind to incorporate these materials in design.
Also, Hublot continued to innovate with their entirely natural rubber strap. This took three years of development, and though achieved no success during their launch at the Basel Watch Fair that year, 1981 the brand had turned over $2million.
The Rubberband moulds to the wearer as they put the watch on, adapting to each individual's wrist. The technology was so successful the same material is still used in Hublot's rubber band today.
The 1990S
The mid-90s saw an influx of rubber watches as other market leaders took inspiration from Hublot's unique timepiece designs, cementing the brand's validity in the market as a key competitor.
The 2000S
Carlo Crocco remained busy undertaking design and charity work so looked for someone to overtake the running of the brand. In 2004 Jean-Claude Biver, president of the Omega Division of the Swatch Group took over CEO duties and minority shareholder in Hublot. Following the arrival of Biver in 2004, the brand's sales hit 24 million Swiss francs.
Biver arrived with a bang, and in 2005 launched the new collection aptly named "big bang" chronograph. This watch is awarded multiple accolades;
TVs
Radios
Airport security scanners
iPad and Tablets
In April 2008 luxury goods group LVMH had purchased Hublot from Carlo Crocco for an undisclosed fee, adding to its existing portfolio of watch brands including TAG Heuer and Zenith. Repairs by Post are horology experts and also deal expertly with Tag Heuer watch repair and Zenith watch repair.
In 2008, they agreed on a sponsorship deal with the football club Manchester United. Repairs by Post are based here and offer online watch repairs in Manchester.
At Basel World 2009, Hublot unveiled a new method of detecting counterfeit watches. Using the "WISeKey" smart card authenticates watches on Hublot's servers. Please note we do not deal with counterfeit watches, please read our blog on the fake watch market to find out more.
The 2010S
April 2012 Hublot Partnered the Swiss Confederation at the World Expo 2012 to display their new Divers Watch the Hublot Oceanographic 4000 King Gold White, this innovative piece of equipment is certified water-resistant to 4000m.
In 2016 Hublot was awarded the honour of presenting their official licensed watch for the 2016 UEFA Euros. This marks the tenth anniversary of the brand's partnership with football, as in 2006 Hublot partnered with the Swiss team during the world cup.
The faster, less-expensive way to repair any watch. From your home, office or on the go.