Hamilton watch repair
from £75, shipping, insurance and VAT.
Join thousands of satisfied customers with the Repairs by Post, fast, easy and convenient Hamilton watch repair service. From a simple battery replacement to a new genuine strap or full-service. Your Hamilton timepiece is in good hands with more than 1.5K reviews online, free postage, insurance and a 24-month guarantee.
*Prices inc. VAT and postage both ways. No hidden fees. Open a repair ticket for a free no-obligation watch assessment, or talk to a watch repair expert 0800 121 6030 ( 9am-5pm GMT Mon-Fri. ). No credit card required.
Example: Khaki (H69439411) Quartz service: £169 inc VAT, two-way shipping and 24 month guarantee.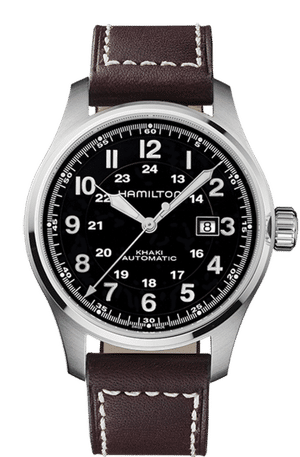 Free, Insured postage
Fully insured to £10K use our free postage pack.
12/24 months Guarantee
Genuine branded parts — unless we tell you.
Fast turn-around
Quicker than your nearest high-street watch shop.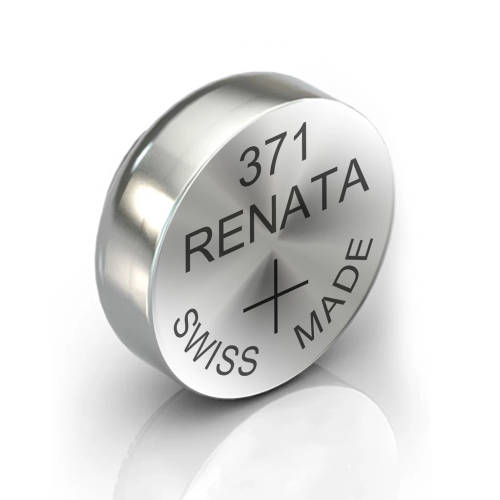 Hamilton watch battery replacement
Hamilton battery died?
Let Repairs by post handle the fuss with our easy to use Hamilton battery replacement postal service. The Hamilton technicians replace batteries for all Hamilton models of ladies and mens wrist-watch.
If you are looking for the nearest local watch battery replacement shop, why not try out easy to use nationwide battery replacement service}.
We use only the best Swiss-made batteries. These are the recommended choice of most Swiss brands.
Your watch is specially resealed to ensure its water-tight gasket meets manufactures ratings and is water resistant again.
During the battery replacement process the Hamilton technician will complete a full inspection of your watch.
Our free inspection ensures your Hamilton watch remains in optimum mechanical and anaesthetic condition, providing peace of mind and extended lifespan for years to come.
It's easy to get started with our online Hamilton battery replacement service. Click the button below and receive your free postal instructions and label.
Hamilton watch repair near me?
Take a walk to your nearest post-office and go direct to the UK's leading Hamilton online watch repair centre.
We've made it safe, fast and FREE to send your Watch to Repairs by post. Just wrap, pack and attach our free Royal Mail postage-paid shipping label. Repairs by post will have your Hamilton watch repair off to a flying start in no-time, and with the peace of mind you're are dealing with Britains leading Hamilton watch repair near me, provider.
It's easy to get started — fill out our watch repair request, and we'll give your watch repair a quick assessment and send you an email with the next steps.
Is my watch insured whilst in transit? (2 min read)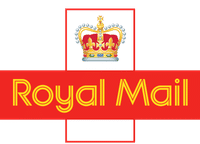 Has your Hamilton watch stopped working, ticking or in need of a service?
If your Hamilton has stopped working or ticking, in need of a service, refurbishment or restoration our expert team can help. We recommended that your Hamilton wristwatch is maintained and looked after professionally to ensure it works for years to come. Repairs by Post offer a fast, professional Hamilton watch repair service by post, from your home, office or on the go. Here are some of the services the Hamilton service centre provides.
Britains #1 Hamilton service centre online for Hamilton repairs and servicing. Can't see the service you need?
*No credit card required. Open a repair ticket for a free no-obligation watch assessment, or talk to a watch repair expert 0800 121 6030 ( 9am-5pm GMT Mon-Fri. )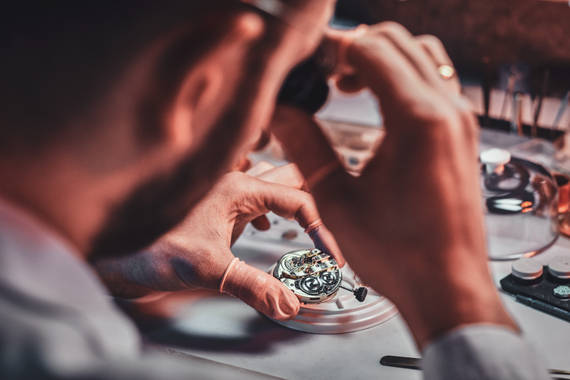 What happens during a Hamilton full service?
Hamilton expert watchmakers service Hamilton quartz and mechanical watches to manufactures standards.
The strap or bracelet of your watch is detached from its case.
The case then opened, and the movement separated. The case is then entirely disassembled.
If we are carrying out a certified manufacture service for luxury brands such as Rolex and Omega the case and bracelet will be re-finished and polished to remove scratches and blemishes. This is carried out by a professional expert polisher.
The inner components are first ultrasonically cleaned then lubricated to minimise friction and wear.
The balance wheel is expertly tested to ensure it's perfectly precise.
The strap undergoes specialist watch cleaning and examination for wear and tear.
Any damaged parts are either refurbished or replaced with genuine or aftermarket equivalent components.
The mechanism is then assembled and reattached to your watch's strap with every seal replaced.
Your timepiece is then finally tested one last time to ensure it's keeping time accurately and to ensure it's still watertight.
All work is convered by a minimum 12 month or 24 month guarantee. Written details available upon request.
Hamilton service and repair costs?
We are unbeaten on price and service for Hamilton servicing and repairs in the UK. As part of our competitive price promise, we will match or beat any written quotation for a like-for-like door-to-door freepost service. Submit an inquiry below to get started.
The faster, less-expensive way to repair any watch. From your home, office or on the go.
Watch Repair Online | FAQ
Open a watch repair request online, tell us about your repair - upload photo's to our UK service centre. Our expert team will examine your online repair request. If your repair is accepted, we notify you the same day with FREE shipping instructions. Still not convinced? Read on.
Did we convince you? We knew you'd see sense.
We're the UK's most-trusted online watch repair service.
We've been providing convenient, affordable watch repair that doesn't compromise on service and quality since 2014, offering a professional repair service with qualified technicians overseeing every repair. In addition, we repair hundreds of brands, which include prestigious names like Rolex, Omega and Cartier. With more than one and a half thousand reviews, we are the UK's most trusted watch repair retailer on the web.
jax gibson
Repairs undertaken to my ladies tag heur watch. Good website followed by clear communication regarding work needing to be carried out with options to include or not very happy with the work done and would definitely highly recommend.
Chris Jefferys
Excellent quality of workmanship - extremely happy with my beautifully restored watch.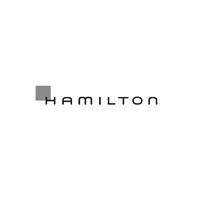 About the Hamilton watch brand
Hamilton has referred to their brand as the "Movie Brand" as they are continually working with some of the world's leading directors, costume designers, prop masters and screenwriters to create unique timepieces that have their own story.
Nowadays, the brand is creating watches that are made from the big screen, creating striking designs made with on the finest materials. These edgier pieces are chosen to bring high impact to the costume design element of the film. Hamilton is making watches for a variety of film genres, from action-packed blockbusters to comedy classics.
Hamilton's brand has a long history with its fusion of "American Spirit/Swiss Precision". The brand has come a long way since its roots, and in recent years the brand has been a popular choice for Hollywood cinema, featuring in blockbusters like Interstellar and The Martian.
What is the warranty on a Hamilton watch?
When you buy your Hamilton watch, it's covered by a manufactures warranty.
HAMILTON® watch is warranted by Hamilton International Ltd for a period of twenty-four (24) months from the date of purchase
If your Hamilton warranty has expired, Repairs by post can provide an estimate for both watch repairs and servicing. Don't worry, it does not need to break the bank, and you can start for free.
*No credit card required. Open a repair ticket for a free no-obligation watch assessment, or talk to a watch repair expert 0800 121 6030 ( 9am-5pm GMT Mon-Fri. )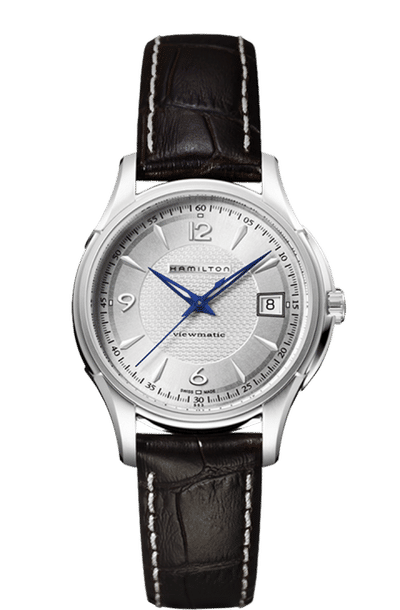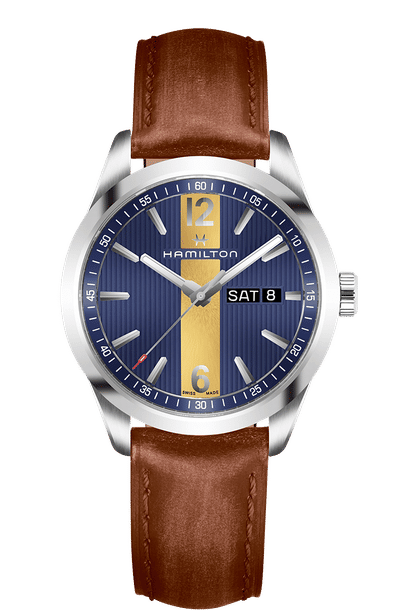 What is the Hamilton watch service interval?
Keep your Hamilton watch in working order periodic servicing according to brand guidelines. These are the recommended service intervals from Hamilton:
We generally recommend that a complete maintenance service should be carried out every three (3) to five (5) years.
If your Hamilton requires a service or water test, Repairs by post can help.
*No credit card required. Open a repair ticket for a free no-obligation watch assessment, or talk to a watch repair expert 0800 121 6030 ( 9am-5pm GMT Mon-Fri. )
Hamilton maintenance and care tips
WATER RESISTANT HAMILTON WATCHES
Hamilton watches are all tested for water-resistance, and this is marked on the back of each watch's case. Like many watch brands, the water-resistance of a Hamilton watch may be weakened by the ageing of the watch.
Although the watches may be marked to prove it is water resistance, the water-resistance of a watch is not permanent Keep in mind that external influences like perspiration, chlorine, saltwater, ultraviolet rays and cosmetic products can all affect the condition of the watch's sealing over time.
To keep your watch in the best condition after contact with chlorine or saltwater always wash it with pure, clear water. If you are often wearing you, Hamilton watches while in water, we suggest that you have it maintained yearly.
While wearing the watch, refrain from using the push button function or turning bezels underwater. The water-resistance of your watch is marked on the back of the case marked as either:
3 bar (30 m) / 43 psi (98.4 ft)
5 bar (50 m) / 73 psi (164 ft)
10 bar (100 m) / 145 psi (328 ft)
15 bar (150 m) / 217 psi (492 ft)
20 bar (200 m) / 290 psi (656.1 ft)
100 bar (1000 m) / 1450 psi (3280.8 ft)
HAMILTON WATCHES: LEATHER STRAP
If you have had a leather watch before then, you will know that leather straps change over time. The leather is a natural material. Therefore, it will get softer over time due to natural ageing. If you wear your leather watch strap daily, Hamilton recommends that you change the strap every twelve months.
HAMILTON WATCHES CARE TIPS
There are lots of ways of maintaining your Hamilton watch strap. When buying a timepiece, there are certain things you can do to keep it in good condition for as long as possible; Hamilton watches recommend that their customers do the following:
Avoid prolonged exposure to sunlight on your leather watch as this may cause discolouration.
Avoid spraying or applying oily substances and cosmetics when you are wearing your watch as this may cause damage to your watch.
If you are planning on wearing your watch in water, it may be best to avoid leather straps as wetness can cause fading of colour, avoid contact with any kind of water. If you are wearing your watch in water remember that you should always rinse it with clear water as salt and chlorine can damage it.
When cleaning your timepiece, clean the leather strap with a soft dry cloth as chemical substances can damage it. Watch strap replacement can take a matter of days and may vary in pricing.
CLEANING YOUR HAMILTON WATCH
It is safe to wipe your Hamilton timepiece with a soft, dry cloth periodically. You can also clean your water-resistant watch cases, steel bracelets and rubber straps with a small brush. This is possible with a toothbrush and soapy water.
Make sure when you are cleaning your Hamilton watch you rinse it with clear water afterwards, always using a soft cloth to dry it.
CHEMICAL PRODUCTS
Solvents, detergents, perfumes, cosmetic products can damage your watch. Avoid spraying or apply these chemical products on to your wrist when you are wearing your watch as this may damage your strap/bracelet and case.
Chemical liquids impair the function of the gaskets affecting the water-resistance of your watch.
MAGNETIC FIELDS AND HAMILTON WATCHES
Avoid magnetic fields like speakers, electric devices, security gates at airports or other electromagnetic appliances when you are wearing your Hamilton watch. These type devices can yield strong magnetic fields which could affect the functions of your watch.
TEMPERATURES AND SHOCKS
Hamilton recommends that users avoid exposure to extreme climatic changes, such as:
exposure to sunlight followed by immersion in cold water
extreme temperatures over 60°C (140°F)
extreme temperatures under than 0°C (32°F).
Avoid wearing your Hamilton watch while playing sports. Playing Golf, Tennis with your watch on could expose your watch to heavy shocks that have the potential to damage the micromechanical parts in the movement.
HAMILTON WATCH BATTERIES
Watch batteries last from around two and five years, however, this depends on the watch's movement type, and the energy is used to complete its different functions. It is easy to tell when a Hamilton watch's battery needs to be changed as the second hand will jump in 4-second intervals.
To avoid the risk of leakage that may cause damage to the watch mechanism, take your watch to a watch repair service as soon as possible.
*No credit card required. Open a repair ticket for a free no-obligation watch assessment, or talk to a watch repair expert 0800 121 6030 ( 9am-5pm GMT Mon-Fri. )
History of Hamilton watches
Let's look back at Hamilton's rich history: from their first range of pocket watches in 1912 to their reinvention of railroad accuracy.
1892
It all started for Hamilton watches in Pennsylvania, USA. The foundation for the business was built there in 1892, and the first watch was made in 1893.
1912
In 1912, Hamilton created their T first series of pocket watches – "The watch of Railroad accuracy". Railroad accidents were not uncommon during this time as the American railroads worked over 50 different "times". Hamilton saw this misfortune as a chance to develop timepieces that would deliver accurate watches to the railroad community.
1914
Hamilton became the prestigious rank of a supplier to the US Armed Forces.
1919
In 1919 a Hamilton aeronautical watch accompanied the first American airmail postal service between Washington and New York.
1928
The introduction of the Piping Rock and Yankee watch confirmed the Hamilton leadership in the American style.
1942
This was the year that Hamilton production of watches for consumers to concentrate on the massive task of providing the forces with one million timepieces.
1951
This was Hamilton's first movie appearance in the Oscar-nominated movie "The Frogmen".
As Hamilton was known for its production of military timepieces, their watches were used in this true film story.
1957
Hamilton introduces the world's first electric watch: the VENTURA, revolutionary technology in an innovative design.
1961
History was made in 1961 when Elvis Presley wore his Ventura in the film "Blue Hawaii".
Soon after this, Stanley Kubrick who approached the American brand in 1966 to make unique timepieces for his new, futuristic film, 2001: A Space Odyssey. The Hamilton design team provided him with a wristwatch and a desk clock that fit the bill perfectly.
1970
The world's first LED digital watch started measuring time – made by Hamilton.
The faster, less-expensive way to repair any watch. From your home, office or on the go.