Chopard watch repair
from £79, shipping, insurance and VAT.
Join thousands of satisfied customers with the Repairs by Post, fast, easy and convenient Chopard watch repair service. From a simple battery replacement to a new genuine strap or full-service. Your Chopard timepiece is in good hands with more than 1.5K reviews online, free postage, insurance and a 24-month guarantee.
*Prices inc. VAT and postage both ways. No hidden fees. Open a repair ticket for a free no-obligation watch assessment, or talk to a watch repair expert 0800 121 6030 ( 9am-5pm GMT Mon-Fri. ). No credit card required.
Example: Hapy Sport (3002) Quartz service: £209 inc VAT, two-way shipping and 24 month guarantee.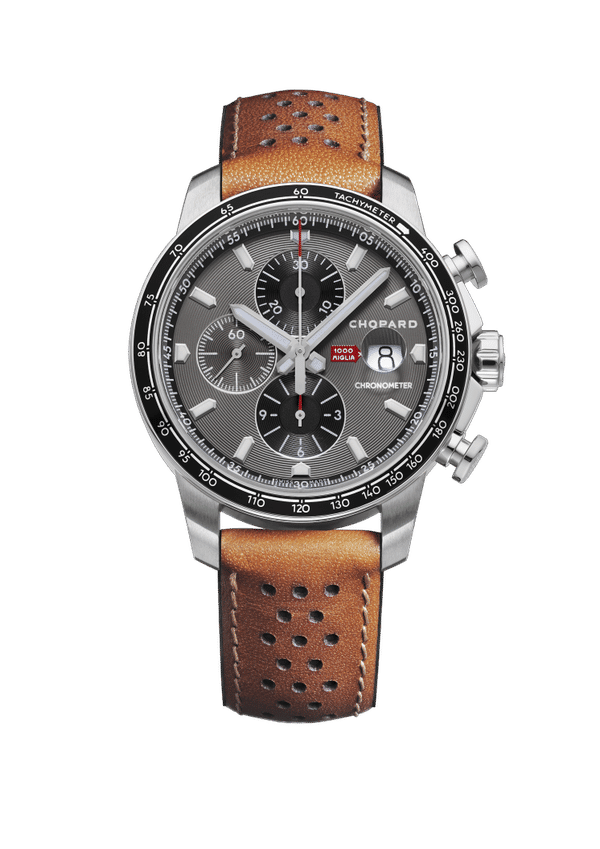 Free, Insured postage
Fully insured to £10K use our free postage pack.
12/24 months Guarantee
Genuine branded parts — unless we tell you.
Fast turn-around
Quicker than your nearest high-street watch shop.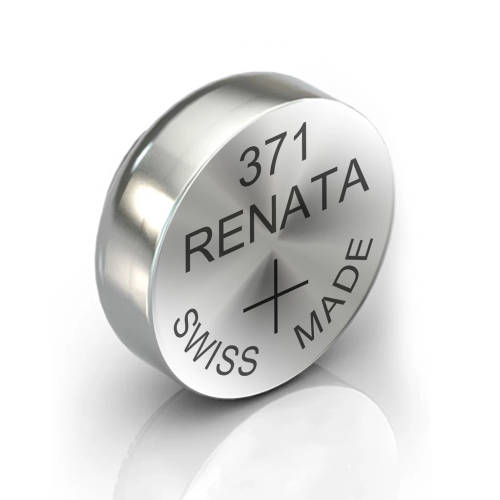 Chopard watch battery replacement
Chopard battery died?
Let Repairs by post handle the fuss with our easy to use Chopard battery replacement postal service. The Chopard technicians replace batteries for all Chopard models of ladies and mens wrist-watch.
If you are looking for the nearest local watch battery replacement shop, why not try out easy to use nationwide battery replacement service}.
We use only the best Swiss-made batteries. These are the recommended choice of most Swiss brands.
Your watch is specially resealed to ensure its water-tight gasket meets manufactures ratings and is water resistant again.
During the battery replacement process the Chopard technician will complete a full inspection of your watch.
Our free inspection ensures your Chopard watch remains in optimum mechanical and anaesthetic condition, providing peace of mind and extended lifespan for years to come.
It's easy to get started with our online Chopard battery replacement service. Click the button below and receive your free postal instructions and label.
Chopard watch repair near me?
Take a walk to your nearest post-office and go direct to the UK's leading Chopard online watch repair centre.
We've made it safe, fast and FREE to send your Watch to Repairs by post. Just wrap, pack and attach our free Royal Mail postage-paid shipping label. Repairs by post will have your Chopard watch repair off to a flying start in no-time, and with the peace of mind you're are dealing with Britains leading Chopard watch repair near me, provider.
It's easy to get started — fill out our watch repair request, and we'll give your watch repair a quick assessment and send you an email with the next steps.
Is my watch insured whilst in transit? (2 min read)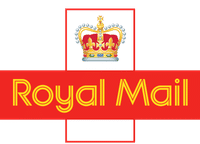 Has your Chopard watch stopped working, ticking or in need of a service?
If your Chopard has stopped working or ticking, in need of a service, refurbishment or restoration our expert team can help. We recommended that your Chopard wristwatch is maintained and looked after professionally to ensure it works for years to come. Repairs by Post offer a fast, professional Chopard watch repair service by post, from your home, office or on the go. Here are some of the services the Chopard service centre provides.
Britains #1 Chopard service centre online for Chopard repairs and servicing. Can't see the service you need?
*No credit card required. Open a repair ticket for a free no-obligation watch assessment, or talk to a watch repair expert 0800 121 6030 ( 9am-5pm GMT Mon-Fri. )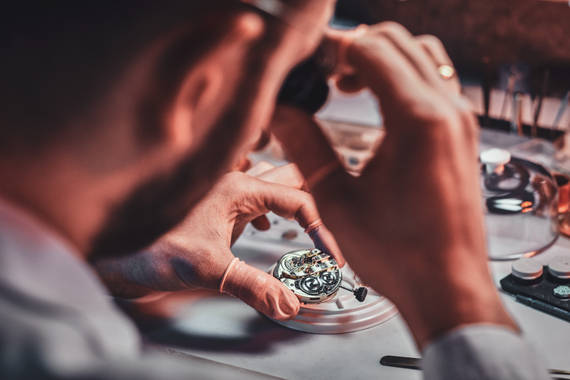 What happens during a Chopard full service?
Chopard expert watchmakers service Chopard quartz and mechanical watches to manufactures standards.
The strap or bracelet of your watch is detached from its case.
The case then opened, and the movement separated. The case is then entirely disassembled.
If we are carrying out a certified manufacture service for luxury brands such as Rolex and Omega the case and bracelet will be re-finished and polished to remove scratches and blemishes. This is carried out by a professional expert polisher.
The inner components are first ultrasonically cleaned then lubricated to minimise friction and wear.
The balance wheel is expertly tested to ensure it's perfectly precise.
The strap undergoes specialist watch cleaning and examination for wear and tear.
Any damaged parts are either refurbished or replaced with genuine or aftermarket equivalent components.
The mechanism is then assembled and reattached to your watch's strap with every seal replaced.
Your timepiece is then finally tested one last time to ensure it's keeping time accurately and to ensure it's still watertight.
All work is convered by a minimum 12 month or 24 month guarantee. Written details available upon request.
Chopard service and repair costs?
We are unbeaten on price and service for Chopard servicing and repairs in the UK. As part of our competitive price promise, we will match or beat any written quotation for a like-for-like door-to-door freepost service. Submit an inquiry below to get started.
The faster, less-expensive way to repair any watch. From your home, office or on the go.
Watch Repair Online | FAQ
Open a watch repair request online, tell us about your repair - upload photo's to our UK service centre. Our expert team will examine your online repair request. If your repair is accepted, we notify you the same day with FREE shipping instructions. Still not convinced? Read on.
Did we convince you? We knew you'd see sense.
We're the UK's most-trusted online watch repair service.
We've been providing convenient, affordable watch repair that doesn't compromise on service and quality since 2014, offering a professional repair service with qualified technicians overseeing every repair. In addition, we repair hundreds of brands, which include prestigious names like Rolex, Omega and Cartier. With more than one and a half thousand reviews, we are the UK's most trusted watch repair retailer on the web.
David Graham
Excellent service and time turn around. I especially appreciated the regular email updates. I'd highly recommend and use again. Thanks for restoring my watch Repairs By Post.
Claire Barton
Excellent service from Jonathan and the team. I really thought it would cost a fortune to get my Daughters watch fixed but it didn't! .Quick turnaround too. Definitely recommend.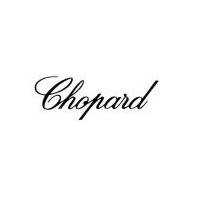 About the Chopard watch brand
Founded by Louis-Ulysse Chopard in 1860, Chopard has a long and illustrious history of high quality, precise watchmaking. As with any other precision instrument, watches need regular care and maintenance to guarantee full functionality. A watch service will improve the longevity of any timepiece, allowing you to treasure your watch for years to come.
What is the warranty on a Chopard watch?
When you buy your Chopard watch, it's covered by a manufactures warranty.
The Chopard international warranty covers all manufacturing defects which have occurred within 24 months for new purchases.
If your Chopard warranty has expired, Repairs by post can provide an estimate for both watch repairs and servicing. Don't worry, it does not need to break the bank, and you can start for free.
*No credit card required. Open a repair ticket for a free no-obligation watch assessment, or talk to a watch repair expert 0800 121 6030 ( 9am-5pm GMT Mon-Fri. )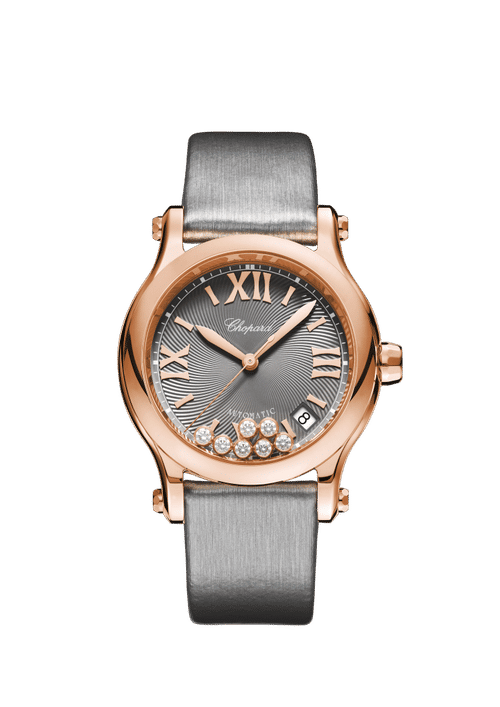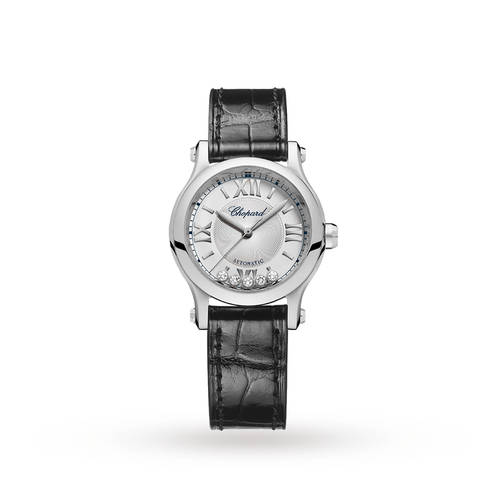 What is the Chopard watch service interval?
Keep your Chopard watch in working order periodic servicing according to brand guidelines. These are the recommended service intervals from Chopard:
12-months water-resistance test.
If your Chopard requires a service or water test, Repairs by post can help.
*No credit card required. Open a repair ticket for a free no-obligation watch assessment, or talk to a watch repair expert 0800 121 6030 ( 9am-5pm GMT Mon-Fri. )
Chopard maintenance and care tips
We've provided expert tips to ensure you Chopard watch in optimum condition for as long as possible.
CLEANING YOUR Chopard WATCH
Your watch should be cleaned with a soft absorbent cloth or air dried. Never try to dry your watch using a hairdryer or on a radiator.
MAGNETIC FIELDS CAN DAMAGE YOUR Chopard WATCH
You should keep your watch away from strong magnetic fields. A quartz watch will recalibrate in about five minutes, but a mechanical timepiece may need demagnetisation. We undertake this using our specialist equipment in our workshop. During any Chopard watch service, we will demagnetise your watch as a standard. You can tell if your watch is magnetised as it will not be keeping time properly, typically a magnetised watch will run faster.
TEMPERATURE SHOCKS
Your watch is delicate, to avoid early Chopard watch repair you should not allow your timepiece to sit in direct sunlight, this can damage the timekeeping mechanism. Watches subject to high temperatures (above 60 degrees Celsius) run slow Timepieces subject to cool temperature shocks (below 10 degrees Celsius) run fast.
PHYSICAL WATCH SHOCKS
We recommend that you remove your watch before playing any sport that involves substantial impacts. Any direct impact on your wrists can affect the tiny parts inside the watch. It's advised you remove your watch when undertaken any manual labour as a precaution. Dropping the watch may also cause damage. Should your Chopard watch suffer a physical shock; send it for online watch repair and inspection. We can determine if your watch has suffered any internal damage that needs rectifying.
Chopard WATCH STRAP REPAIR
All Chopard Leather straps are Genuine Leather. All Denim Straps have a Genuine Leather Backing. Leather/Denim straps should not be submerged in water.
Chopard RUBBER STRAPS
Rubber/Silicone straps are water resistant, but should not be submerged in water for extended periods.
It's essential to expose Chopard rubber straps to gases or chemicals (for example; fragrance sprays, detergents, insecticides, etc.) This could damage the aesthetic look and function of the strap. Stains made by dye, paints and oily substances may be difficult to remove.
Chopard LEATHER STRAPS
Protect your leather Chopard watch strap by taking it off in damp environments as humidity can damage the material. Just like rubber and silicone straps, your leather strap should also avoid contact with chemicals, cosmetics.
Do not submerge your leather strap in water; this can damage the look and function of the strap. Avoid sun damage as this may alter the appearance of the leather watch strap. When you're not wearing your watch, keep it in a cool dark place, out of direct sunlight.
Should your watch suffer damage, send it to our expert team for Chopard watch strap replacement or Chopard watch band replacement.
Chopard STEEL AND BRASS BRACELETS
Over time, your steel bracelet may tarnish because of a buildup of dust and sweat from everyday use. We can revive your timepiece through our watch polishing service. Your Chopard steel watch strap should not come into contact with chemicals which may damage it.
IS MY Chopard WATCH WATER RESISTANT?
Chopard watches come with a manual which describes the water resistance of your timepiece.
Water resistant: Withstands splashes of water or rain; do not submerge
3 atm/30m/100 ft.: Rain, do not submerge
5 atm/50m/165 ft.: Rain, showering do not submerge
10atm/100m/330ft.: Rain, showering, swimming
Watches will withstand water resistance as long as the crystal, crown, push buttons, case and gaskets remain intact. Please do not operate the crown or buttons when the watch is wet or submerged as this can lead to damaging water infiltrating the mechanism.
You should have your watch inspected each year to ensure the water-resistant levels are intact.
Should your watch come into contact with salt water or chlorine, send it immediately for Chopard watch repair. These liquids can corrode the internal workings of your watch if not dealt with promptly.
*No credit card required. Open a repair ticket for a free no-obligation watch assessment, or talk to a watch repair expert 0800 121 6030 ( 9am-5pm GMT Mon-Fri. )
History of Chopard watches
1836
Louis-Ulysse Chopard is born on May 4th in the Swiss village of Sonvilier, Switzerland.
1860
Louis establishes his workshop in his home village on Sonvilier. Due to his diligence with regards to precision and reliability, he quickly garners respect in the field, gaining buyers from as far afield as Eastern Europe, Russia, and Scandinavia.
1921
Louis' founder's son, Paul Louis Chopard, opens a branch in La Chaux-de-Fonds and then relocates the company headquarters there.
1937
Chopard relocates to Geneva, the capital of Haute Horologie (Fine Watchmaking in English), bringing the brand closer to its cosmopolitan clientele and launching into the production of quality watches.
1943
Paul André Chopard, the grandson of Louis-Ulysse, takes the helm of the Chopard business.
1963
Paul André seeks a buyer capable of taking the Chopard brand forward and reviving the brand's rich heritage, as none of his sons wished to carry on the business. Karl Scheufele, the descendant of a strong line of watchmakers and jewellers from Pforzheim, Germany, steps forward. Already the owner of the firm Scheufele (producing watches under the Eszeha brand name) founded in 1904, he combines the two manufacturing entities and continues production under the Chopard brand.
1974
Production leaves the center of Geneva and moves to the Mayrin-Geneva site. The Chopard brand develops an additional focus, this time centred on jewellery and watches for ladies.
1976
The first Happy Diamonds watch is created. Encapsulated around the watch movement is free spinning, mobile diamonds.
1980
The first sports watch with a leather strap is released, the St. Moritz. Further development of the Happy Diamonds watch is also a success.
1986
The first Chopard Boutique opens in Europe in Geneva.
1988
The start of the partnership between Chopard and the Mille Miglia vintage and classic car rally held annually in Italy. Chopard creates the Mille Miglia collection to commemorate the partnership.
1996
Chopard returns to its roots by founding watch manufacture in the Swiss Jura, dedicated to producing the hand-crafted "L.U.C." movements.
1997
Presentation of the L.U.C. 1860, the first Chopard watch housing a L.U.C. movement. 1860 is voted "Watch of the Year" by the Swiss magazine Montres Passion.
1998
Chopard becomes an official partner of the Cannes Film Festival after the President of the festival asks Caroline Scheufele to redesign the Palme d'Or trophy.
2003
Chopard presents the L.U.C. Calibre and the first L.U.C. Tourbillon, a technological first by Chopard Manufacture.
2007
Chopard celebrates the opening of its 100th Boutique, a flagship store with a floor size of 280m2 on Madison Avenue in New York.
2010
The 150th anniversary of Chopard and the launch of the Animal World High Jewellery Collection.
The faster, less-expensive way to repair any watch. From your home, office or on the go.