Cartier watch repair and servicing
from £109. Inc postage pack, insurance and VAT.
Join thousands of satisfied customers with our fast, easy and convenient Cartier watch repair service. From a simple battery replacement to a new genuine strap replacement or service. Your Cartier timepiece is in good hands, with more than 1.5K reviews online, free postage, insurance and a 24-month guarantee.
*Prices inc. VAT and postage both ways. No hidden fees. Open a repair ticket for a free no-obligation watch assessment, or talk to a watch repair expert 0800 121 6030 ( 9am-5pm GMT Mon-Fri. ). No credit card required.
Example: Cartier Tank Francais Quartz service: £319 inc VAT, two-way shipping and 24 month guarantee.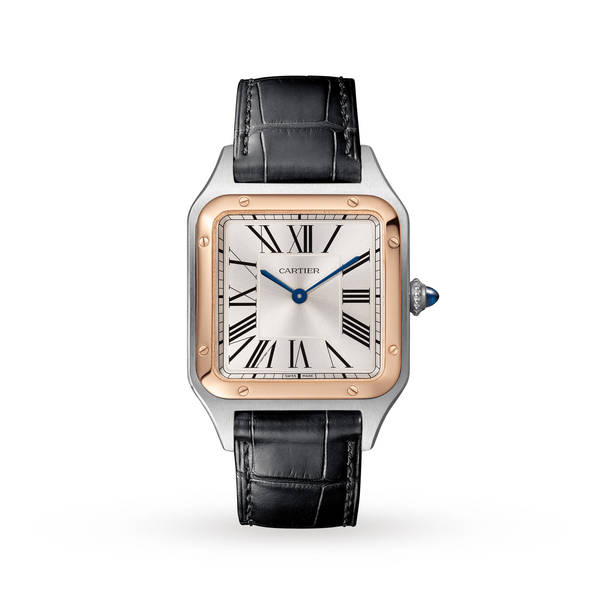 Free, Insured postage
Use our free postage pack for a safe and fast delivery..
12/24 months Guarantee
Enjoy peace of mind with our guarantee on all repairs
Fast turn-around
Our efficient service is faster than your nearest high-street watch shop.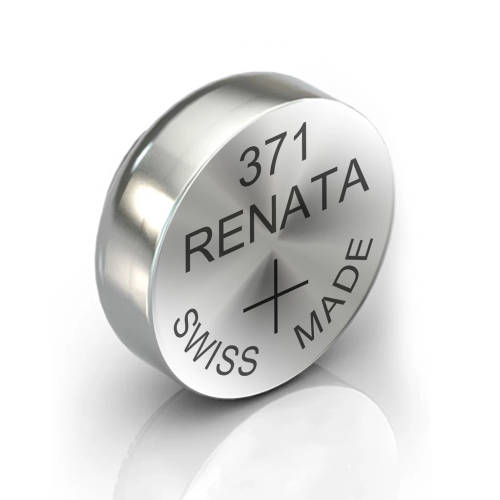 Cartier watch battery replacement
Cartier battery died?
Let Repairs by post handle the fuss with our easy to use Cartier battery replacement postal service. The Cartier technicians replace batteries for all Cartier models of ladies and mens wrist-watch.
If you are looking for the nearest local watch battery replacement shop, why not try out easy to use nationwide battery replacement service}.
We use only the best Swiss-made batteries. These are the recommended choice of most Swiss brands.
Your watch is specially resealed to ensure its water-tight gasket meets manufactures ratings and is water resistant again.
During the battery replacement process the Cartier technician will complete a full inspection of your watch.
Our free inspection ensures your Cartier watch remains in optimum mechanical and anaesthetic condition, providing peace of mind and extended lifespan for years to come.
It's easy to get started with our online Cartier battery replacement service. Click the button below and receive your free postal instructions and label.
Cartier watch repair near me?
Take a walk to your nearest post-office and go direct to the UK's leading Cartier online watch repair centre.
We've made it safe, fast and FREE to send your Watch to Repairs by post. Just wrap, pack and attach our free Royal Mail postage-paid shipping label. Repairs by post will have your Cartier watch repair off to a flying start in no-time, and with the peace of mind you're are dealing with Britains leading Cartier watch repair near me, provider.
It's easy to get started — fill out our watch repair request, and we'll give your watch repair a quick assessment and send you an email with the next steps.
Is my watch insured whilst in transit? (2 min read)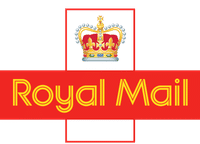 Has your Cartier watch stopped working, ticking or in need of a service?
If your Cartier has stopped working or ticking, in need of a service, refurbishment or restoration our expert team can help. We recommended that your Cartier wristwatch is maintained and looked after professionally to ensure it works for years to come. Repairs by Post offer a fast, professional Cartier watch repair service by post, from your home, office or on the go. Here are some of the services the Cartier service centre provides.
Britains #1 Cartier service centre online for Cartier repairs and servicing. Can't see the service you need?
*No credit card required. Open a repair ticket for a free no-obligation watch assessment, or talk to a watch repair expert 0800 121 6030 ( 9am-5pm GMT Mon-Fri. )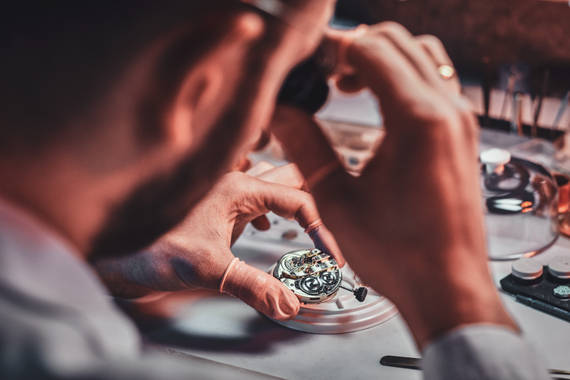 What happens during a Cartier full service?
Cartier expert watchmakers service Cartier quartz and mechanical watches to manufactures standards.
The strap or bracelet of your watch is detached from its case.
The case then opened, and the movement separated. The case is then entirely disassembled.
If we are carrying out a certified manufacture service for luxury brands such as Rolex and Omega the case and bracelet will be re-finished and polished to remove scratches and blemishes. This is carried out by a professional expert polisher.
The inner components are first ultrasonically cleaned then lubricated to minimise friction and wear.
The balance wheel is expertly tested to ensure it's perfectly precise.
The strap undergoes specialist watch cleaning and examination for wear and tear.
Any damaged parts are either refurbished or replaced with genuine or aftermarket equivalent components.
The mechanism is then assembled and reattached to your watch's strap with every seal replaced.
Your timepiece is then finally tested one last time to ensure it's keeping time accurately and to ensure it's still watertight.
All work is convered by a minimum 12 month or 24 month guarantee. Written details available upon request.
Cartier service and repair costs?
We are unbeaten on price and service for Cartier servicing and repairs in the UK. As part of our competitive price promise, we will match or beat any written quotation for a like-for-like door-to-door freepost service. Submit an inquiry below to get started.
Quick, affordable watch repairs from the comfort of your home, office, or on-the-go.
Watch Repair Online | FAQ
Open a watch repair request online, tell us about your repair - upload photo's to our UK service centre. Our expert team will examine your online repair request. If your repair is accepted, we notify you the same day with FREE shipping instructions. Still not convinced? Read on.
Did we convince you? We knew you'd see sense.
We're the UK's most-trusted online watch repair service.
We've been providing convenient, affordable watch repair that doesn't compromise on service and quality since 2014, offering a professional repair service with qualified technicians overseeing every repair. In addition, we repair hundreds of brands, which include prestigious names like Rolex, Omega and Cartier. With more than one and a half thousand reviews, we are the UK's most trusted watch repair retailer on the web.
David Mottershead
Repairs By Post have just completed a full strip down, clean and mechanical service on a 1920's Rolex marked movement pocket watch for me. This is the fourth vintage/antique pocket watch that they have serviced for me and each time the service and work, including glass replacement etc, has been excellent. Some of the pocket watches in my collection are hard to come by antiques, but I would trust them to Jonathan and Repairs By Post each and every time. You can find cheaper, but I haven't better.
David Mintz
I have used repairs by post on two previous occasions and we were delighted with the service received. Our items came back polished and clean and it has been the only repair treatment that has lasted and stood the test of time. Would recommend and would use again. I shall shortly be sending my watch in for servicing and repair.

About the Cartier watch brand
Founded by Louis-François Cartier in Paris in 1847, Cartier is a brand synonymous with luxury.  In 1904 Cartier produced its first wristwatch, the Santos, named after the famous aviator  Alberto Santos-Dumont complained to Louis about how difficult it was to use a pocket watch whilst flying. The Santos collection is still available today. My the late 1910s there were Cartier shops in Paris, London and New York. In 1919 the Tank was produced, inspired by the tanks used during the war. The Tank is still available today.
In 1902 Edward VII ordered 27 tiaras and awarded Cartier the Royal Warrant a few years later. In addition to this Royal Warrant, Cartier has been granted Royal Warrants from Spain, Portugal and Russia.
Cartier remains a brand famous for its luxury watches and jewellery.
What is the warranty on a Cartier watch?
When you buy your Cartier watch, it's covered by a manufactures warranty.
Your Cartier watch is guaranteed against any manufacturing defect for a period of twenty-four (24) months from the date of purchase.
If your Cartier warranty has expired, Repairs by post can provide an estimate for both watch repairs and servicing. Don't worry, it does not need to break the bank, and you can start for free.
*No credit card required. Open a repair ticket for a free no-obligation watch assessment, or talk to a watch repair expert 0800 121 6030 ( 9am-5pm GMT Mon-Fri. )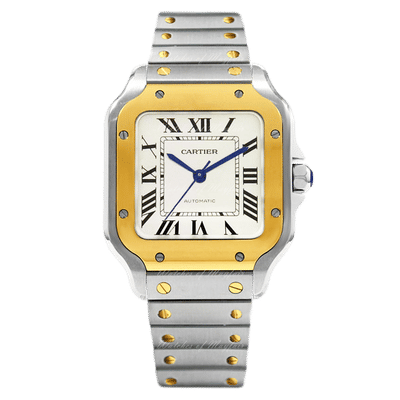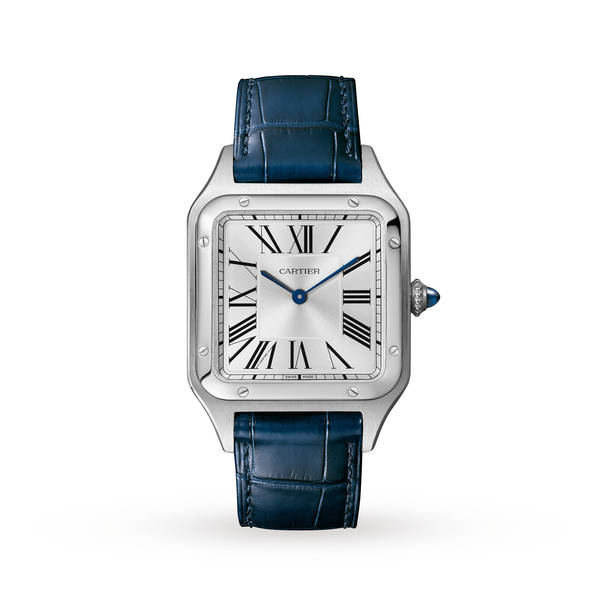 What is the Cartier watch service interval?
Keep your Cartier watch in working order periodic servicing according to brand guidelines. These are the recommended service intervals from Cartier:
12-months water-resistance test.
Cartier watches receive a battery service every 2 to 3 years and a complete service every 5 years.
If your Cartier requires a service or water test, Repairs by post can help.
*No credit card required. Open a repair ticket for a free no-obligation watch assessment, or talk to a watch repair expert 0800 121 6030 ( 9am-5pm GMT Mon-Fri. )
Cartier maintenance and care tips
Cartier WATCH CLEANING BETWEEN PROFESSIONAL POLISHING
Wearing your Cartier watch naturally leads to a build-up of natural residue, but this can be remedied through gently cleaning your watch with a clean toothbrush and liquid soap. Failing to do this might lead your steel strap to oxidise and irritate the skin. This method should only be used for Cartier steel straps.
If your Cartier has a leather strap, it mustn't get wet. Water damage on leather leads to loss of function and style. Repairs by Post can offer Cartier watch strap replacement and Cartier clasp replacement if your strap suffers damage. Repairs by Post also offer Cartier watch polishing too.
A replacement watch clasp saves you having to replace the entire strap. We use either manufacturer's original parts or equivalents where suitable. We match the clasp to your strap, fit it, and before we return it to you, we will assess your watch to see if any other work is required, such as loose links or scratched glass.
AVOID SHOCKS TO YOUR WRIST
Shocks can cause damage to your watch and reduce its lifecycle. Always remove your watch before undertaking any sporting activity; this includes golf. The vibrations of jolting movements can damage the delicate inner components of your Cartier watch.
AVOID RAPID TEMPERATURE CHANGES
Leaving your watch open to sudden changes of temperature can lead to damage, when not being worn keep your timepiece in a cool dark place, such as a drawer. Avoid leaving it in direct sunlight at temperatures above 60 degrees cause damage to the mechanism.
AVOID WATER AND DUST DAMAGE
If you Cartier is coming into contact with water, ensure the crown is fully depressed to limit the chance of water infiltration. Should your Cartier watch suffer water damage send it to Repairs by Post immediately for Cartier watch repair?
AVOID CHLORINATED AND SALTWATER
Tap water and dust can cause damage to your Cartier, but the infiltration of chlorinated or salt water is especially dangerous. These liquids corrode the delicate intricacies of the mechanism. Always remove your Cartier watch when around these liquids as a precaution.
*No credit card required. Open a repair ticket for a free no-obligation watch assessment, or talk to a watch repair expert 0800 121 6030 ( 9am-5pm GMT Mon-Fri. )
CARTIER'S LATEST CREATIONS
CLÉ DE CARTIER AUTOMATIC SKELETON
A Fully skeletonised version of the Clé de Cartier, which was first introduced by Cartier in 2015. Fitted with a self-winding crown and self-centring mechanism that automatically puts the crown in line with the flank of the case when released.
It uses the in-house Cartier calibre 9621 MC movement, with a 22k gold rotor, alligator strap and clasp in 18k white gold. The power reserve is 48 hours at 28,800 VPH.
THE CARTIER CRASH SKELETON IN PINK GOLD
One of Cartier's biggest hits of 2015 Reworked for 2016, the "Crash" was first introduced in 1967. It has a Cartier calibre 9618 MC movement and a power reserve of 3 days. Beating at 28,800 VPH.
ROTONDE DE CARTIER EARTH AND MOON (WITH METEORITE DIAL)
By pressing the pusher at four o'clock a disk precisely the diameter of the tourbillon cage to swing into position, indicating, by how much it obscures the tourbillon, the current phase of the moon.
It features an independent, fully adjustable second time-zone.
The movement is the same as last years calibre 9440 MC, at 38.80mm.
The design has a lunar-feeling, meteorite dial which manages very well to convey what Buzz Aldrin called the "magnificent desolation" of the moon.
THE PANTHÈRES ET COLIBRI WITH ANIMATED DIAL AND ON-DEMAND POWER RESERVE
Seen to be both high-end jewellery and watch complication. Pressing the crown activates the dial animation: a baby panther in pink gold emerges from below its mother, while the hummingbird ascends along an arc, with the distance it travels to escape the pouncing infant showing the remaining power reserve.
The movement is Cartier calibre 9915 MC, 36.18mm x 5.45mm.
The case is in 18k white gold; with the panther in rhodium finished 18k white gold.
The mother panther is set with 270 brilliant-cut diamonds, with her spots in black lacquer; the 42.75mm case is set with 314 brilliant-cut diamonds.
THE CARTIER PANTHÈRE MYSTÉRIEUSE
Cartier has been creating mystery watches since 1913. The movement is a calibre 9981 MC driven by a 27 jewel. The panther has 533 diamonds encrusted on it. The eyes are set with pear-cut emeralds.
THE ROTONDE DE CARTIER DAY/NIGHT RETROGRADE MOON PHASES
Said to be based by Cartier's "Comet" clocks a favourite among collectors. The hours are marked with a rotating sun/moon disk which the dial points to 6 am to 6 pm for sun, and 6 pm to 6 am to the moon.
The movement is calibre 9912 MC and consists of 290 parts, including 44 jewels.
History of Cartier watches
Today Cartier is known globally as a jeweller who designs, manufactures and sells watches and jewellery. They are famous for being one of the best luxury watches on the market and are coveted for their superior craftsmanship, but where did this industry giant begin?
The 1840'S
The brand was founded in 1847 by Louis-François Cartier in Paris and was under his control until 1874 until his son, Alfred took over the business. However, it was thanks to his sons Louis, Pierre and Jacques, that the brand became a recognisable name worldwide which it remains today. Alfred's son Louis Cartier was passionate about pocket watches, but when his pilot friend, Alberto Santos-Dumont, complained about the impracticality of using pocket watches Louis was inspired to create the first Cartier wristwatch in 1904. His design incorporated a distinctive square bezel. The watch was named the "Santos" and proved popular with many other customers. After this success, it was Louis who held responsibility for the Cartier Branch in Paris, and it was his eye for design that led to some of the brand's most popular watch styles, including the mystery clock.
Mystery clocks hands seem to float, but in fact, each hand is fixed to a clear crystal (or citrine) disc which rotates.
Their faces appear solid crystal but are a sandwich of crystal, with the filling being the discs with hands.
The two discs move, driven by works in the base and by unseen connecting gears fixed at 6 o'clock in the frame.
Today Cartier still create this fantastic design with their new Rotonde De Cartier Astromystérieux watch taking inspiration from these original designs. The movement, which is in-house made at Cartier's haute horology workshop in La Chaux-de-Fonds, Switzerland, is the new calibre 9462 MC. The total movement, including what you can and cannot see, is comprised of 408 parts and is 39mm wide by 5.9mm thick.
After the success of the mystery watches in the 1800's Cartier began contracts with companies such as Edmond Jaeger, who agreed to supply the movements for Cartier watches exclusively.
1907
Now it was 1907, and the brand had expanded to London, New York and Saint Petersburg and was growing in success and popularity. It was in these years that the Bagniore, Tortue and Tank model were produced, both of which are still popular today.
The "Baignoire" was first created in 1906 and demonstrated Cartier's prowess in crafting watchmaking forms. A discreetly elegant ellipse uniquely forged in a single line, the "Baignoire" watch is the essence of Cartier style: a unique marriage of purity and timeless chic. Today the Baignore is exclusively part of the Carter women's collection.
1912
Louis Cartier imagined a tortoise-inspired watch, the Tortue, in 1912. At a time when all watches were round, the groundbreaking design went on to earn the status of a classic. Cartier offers both ladies' and men's models of this watch in a full range of styles, available in gold, and can even be purchased set or fully paved with diamonds.
1917
Louis Cartier created the Tank watch in 1917. A legend was born. The prototype was presented as a gift to General Pershing some years before the watch was brought to market in 1919. The lugs blend seamlessly into the stark edges of flat vertical brancards, lending the watch its unique aesthetic. The clean, crisp lines have proved hugely popular with a free-spirited, elegant clientèle. The now-iconic Tank watch has inspired countless variations yet managed to preserve its distinctive identity. The tanks of the western front inspired the design of these pieces. Over 30 different Cartier watch styles have been created using this design.
The 1920'S
In the early 1920s, Cartier joined with Edward Jaeger to create a company which designed and produced movements solely for Cartier. The brand started adding their reference numbers to the watches they sold, which was typically a four-digit code under the lug. The watch brand continued to grow and was eventually headed up in New York City by Louis' brother, Pierre. In 1964 Pierre Cartier died and his children, along with their cousin Jean-Jacque Cartier sold the business.
2019
The Cartier 2019 Santos-Dumont, proudly shows the signature of the aviator Alberto Santos-Dumont. The design of the watch purposefully remains close to the original design of 1904 (although it was not available to the public until 1911). Cases are available in gold, gold and steel or all steel. Cartier has also kept the iconic Roman numerals, the visible screws and blue cabochon. The crown on this new 2019 model is larger than its more modern predecessors, more similar in size to a more vintage model. This widely anticipated watch does not disappoint.
The decision was made to produce the watch in stainless steel (whereas historically it has only been available in precious metals) to widen the audience of the Santos-Dumont, although a platinum bracelet is available on request.
POST FAMILY OWNERSHIP
In 1972, a group of investors created Cartier's slogan "Les Must de Cartier" which translates to "Cartier. It's a must!" The same investors went on to purchase Cartier London and New York. The brands were combined to create "Cartier Monde".
In 1994 Robert Hocq of "Les Must de Cartier" died suddenly, and control of the company passed to his sister. Since 2012 Cartier has been owned by Richemont and the 24-year-old granddaughter of Pierre Cartier.
Quick, affordable watch repairs from the comfort of your home, office, or on-the-go.